2012 Flow Conference Call for Responses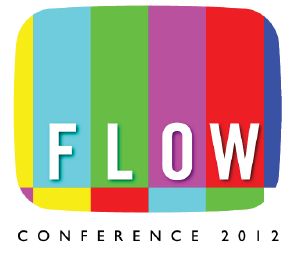 From November 1 to November 3, 2012, the Department of Radio-Television-Film at the University of Texas at Austin will convene its forth biannual conference for FlowTV.org. FlowTV is a graduate student-run online academic journal that focuses on contemporary television and media culture. The conference aims to promote the journal's objectives by bringing stimulating topics from Flow's (web)pages into a lively discussion among television and media scholars, critics, activists, and fans. Flow's emphasis on discussion makes our conference unique; instead of the traditional panel format typically found at academic conferences, the Flow conference includes a series of roundtables during which participants share thoughts and debate issues proposed to us by the journal's recent contributors.
In keeping with Flow's mandate, the 2012 conference address current television programming, such as the rise of "bad parenting" series like Teen Mom and Toddlers & Tiaras, "crisis of masculinity" shows that appeared throughout last season's U.S. schedule, the current/future state of the black sitcom, and the phenomenon of Downton Abbey (and other recent British programs) in America. Other roundtable questions examine industrial aspects of contemporary television, such as the effect of popular cable series like Mad Men on network rebranding, how emergent cable channels like OWN allow for greater diversity in a post-network era, and Netflix's increasing involvement in television production. Because Flow is topical and forward-thinking, we also have roundtable questions on major upcoming events, like the role of social media in this year's U.S. presidential campaign, as well as major international sporting events, such as the Olympics and the UEFA European Football Championship.
The 2012 Flow conference will also feature a number of roundtables that center on the role of digital media and new media in the contemporary mediascape. Our anti-fandom roundtable discusses how people who "hate-watch" certain shows now utilize online websites and forums to express their critical feelings. Other roundtables explore the Digital Humanities, the trend of "raced" self-produced texts on sites like YouTube, changes in queer media studies through new media, and the ways in which Twitter and other media outlets have helped create sports celebrities, like Jeremy Lin and Tim Tebow. We will also feature two roundtables on Video Games Studies that examine gaming capital and the intertextual connections between games and traditional media formats. The conference additionally incorporates two roundtables on media pedagogy: topics of particular interest include the use of new online academic journals like Flow within the classroom and how the emerging discipline of comics studies can be considered in a university curriculum. Another roundtable will consider media convergence in relation to viewers' multi-dimensional "connected" experiences.
The 2012 Flow Conference Committee is accepting roundtable response submissions through July 13. We especially encourage responses that address issues of race, class, gender, sexuality, age, and ability, as well as international perspectives. For a more detailed look at our roundtable questions, please visit our website. If you have any questions, please feel free to email us at flowconference2012@gmail.com.
Thank you, and we look forward to seeing you in Austin this November!
Mike Rennett is writing on behalf of the 2012 Flow Conference Committee. The coordinators include Kayti Lausch, Colleen Montgomery, Mike O'Brien, Morgan O'Brien, Rennett, and Jessi Trimble.