Mutants from the Cultural Gene Pool: Reality Parodies on Kroll Show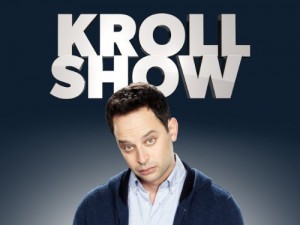 Like SCTV, Comedy Central's new sketch comedy series Kroll Show addresses its audience as viewers of fictional television programming. As such, more than most other sketch shows, it focuses on the dominance of images. This tendency is especially apparent in a pair of sketches in the series' first two recently-aired episodes that parody reality shows detailing the lives of people who make images in the actual world surrounding media industries. Parodying these "behind the scenes" shows adds another level of reflexivity to an already multiply-reflexive media discourse. But while it is fair to characterize these sketches as critical, questions of dominant or oppositional (or hegemonic/counterhegemonic) readings become very muddled in the infinite regression of media meta-discourses.
As with any sketch comedy program, Kroll Show – a vehicle for comedian and The League star Nick Kroll – is heterogeneous. But it privileges certain sketches through multiple segments and narrative progression. One sketch in particular produced a spinoff in this week's second episode ("Soaked in Success"), suggesting particular importance within the series' overall text. Last week's premiere episode ("San Diego Diet") parodied the "overprivileged, incompetent young women go to work" reality genre (think Kourtney and Kim Take Miami) in a sketch that spins off to a "successful at serving the overprivileged" reality parody (think Dr. 90210) in the second. The first, PubLIZity, centers on a pair of women, both named Liz, who run a publicity company. In response to a client's request for "something tasteful," they organize a branded party, "Pirate Girl Rum Presents a Rockin' Beach Bash to Benefit Cupcakes for Canine Cancer." The client, a rare straight man for Kroll Show, summarizes, "The event cost $20,000 and it brought in $4,000 and I feel foolish."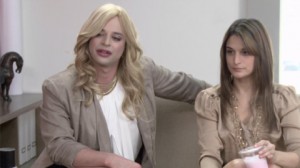 Conflict arises in this sketch as the industrious Liz butts heads with the more easygoing one. The work of organizing overwhelms hardworking Liz who is left to manage alone as the other's superficiality distracts from the party. Deciding that her dog is too ugly, second Liz visits an animal plastic surgeon, Dr. Armand. Addressing the doctor, Liz explains, "I don't want something in my house that's, like, ugly… you wouldn't talk to an ugly person." Dr. Armand reassures her, "No, I don't. I only hire very attractive people and my third wife is one of the most beautiful people I know." The second episode elaborates on Dr. Armand in a sketch posing as a spinoff of PubLIZity. Armand of the House, as it is called, follows the doctor's exploits dealing with his bratty son and distant wife. His dysfunctional family life is due in large part to his image obsession. As suggested in the first episode, Dr. Armand chose his spouse based on looks and in return she cannot even bother to hide that her interest in Dr. Armand is purely material. In demonstration, the doctor purchases his wife's intimacy with jewelry. When the moment comes, she fakes an Ambien coma while he awkwardly dry humps her in the least erotic sex scene ever. The younger Armand and, in another sketch, "Gerry" Bruckheimer's son represent the offspring of the image-obsessed. They are, for lack of space to elaborate, the worst.
In the 1991 Steve Martin film L.A. Story, a character praises the city because, "No one is looking to the outside for verification that what they're doing is alright." These sketches criticize L.A.'s insular culture, but are simultaneously a participant in its navel-gazing. As a parody of reality television's focus on the parasitic industries that groom the images of the people and things that in turn run Hollywood's mass media image production, these sketches play a game of infinite regression. The meta-meta-meta-discourse brings out the mutant traits of its too-small cultural gene pool.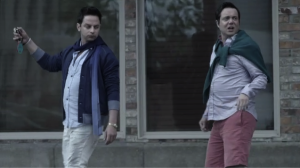 Straight men often function as an audience surrogate, offering an orthodox logic against which the humorous twisted logic can contrast. The one significant straight man in these sketches, who should infuse some level of logic into the situation, has no effect on the goings-on. In another, similar sketch titled "Rich Dicks," L.A.'s idle rich completely ignore the warnings of a put-upon maid, reminiscent of Zoila from Flipping Out. In this way, these voiceless "straight men" represent more particularly in this the viewer of these fictional shows. Ignoring the techno-democratic promise that a showrunner might read our tweets, on this side of the screen from a unidirectional mass media, reasonability seems to have very little voice in that world.
Kroll Show thus reflects an implicit viewing strategy with regards to much reality television: we laugh with a sense of superiority at that insular, overprivileged world. The only difference is that most of the shows on E! and Bravo pretend to not be in on the joke except that once a week, Joel McHale shows up to paratextually snark on our behalf. With programs like the ones Kroll Show critiques, distinctions between dominant and oppositional approaches break down to the point where the categories cease to mean anything. So while part of a critical discourse of class and image, Kroll Show is not critically outside of the programming it critiques. Instead it recreates, albeit more explicitly, a dominant reading position that masquerades as oppositional.