Superman IV: The Quest for Peace and the Low-Budget Superhero Film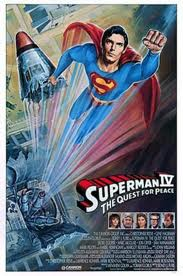 With Man of Steel opening in theaters in three weeks, it is worth reflecting on an often overlooked film in the Superman franchise, Cannon Films' Superman IV: The Quest for Peace (1987). Superman IV sticks out as a relatively rare phenomenon these days: a low-budget, independently-produced superhero summer blockbuster. For example, Man of Steel, though marketed as a "quality" release, has a blockbuster-sized budget of $175 million. Warner Bros.' Superman Returns (2006), too, was an expensive release at $200 million and failed to turn a profit substantial enough to secure a sequel. By contrast, Superman IV was produced by an independent producer and for a modest budget of $25 million ($50 million in 2013 dollars), an average budget for an MPAA film in 1987. As a low-budget superhero sequel, Cannon's Superman IV illustrates the vagaries of a franchise's history as well as the risks of independent production in the 1980s.
Despite the modest budget, Menahem Golan and Yoram Globus hoped Superman IV would function as a blockbuster for their independent company, Cannon Films. Superman IV, along with the Stallone vehicle Over the Top (1987), were Cannon's highest budgeted films of 1987, at around $25-$30 million including prints and advertising costs. A quasi-"mini-major", Cannon specialized in cheap action films typically budgeted at around $5 million, featuring action stars like Chuck Norris and Charles Bronson. Cannon's stated production strategies centered on supplying the international market with American films that could be sold abroad based on star recognition. Moreover, Cannon did not rely on a few pricey films as most of its studio competitors did. Instead, the company released as many as 30 films a year, banking on quantity over quality.  Superman IV's higher budget, though modest by industry norms, was a departure for Cannon.
For Superman IV, Golan and Globus purchased rights for the film from producer Alexander Salkind for a reported $5 million. Cannon was also able to sign on actors Christopher Reeve, Gene Hackman, and Margot Kidder for the fourth film, no small feat considering Reeve swore off all Superman roles after Superman III (1983). Golan and Globus convinced Reeve to star in the film by allowing him creative input; Reeve received a screenwriting credit and Golan and Globus agreed to produce Reeve's personal project, Street Smart (1987).
Cannon Films was infamous in Hollywood at the time for their unconventional methods of financing. For one, Cannon was one of the first independent companies in the 1980s to exploit the growing home video market, as Frederick Wasser has noted. Moreover, Cannon took a particularly aggressive approach to pre-sales of theatrical, TV, and home video rights, focusing on foreign sub-distributors. In fact, pre-sales covered as much as 90 percent of Cannon releases' negative cost, often before production was completed. As one might expect, Cannon had a particularly prominent, sometimes infamous, presence at industry sales events like Cannes and MIFED, where Golan and Globus shopped finished films as well as promo reels of films in production. Yoram Globus summed up Cannon's strategy in a 1986 interview in the Los Angeles Times: "Cover the downside, dream on the upside and run it as a business."
Golan and Globus funded much of Superman IV through pre-sales agreements. In April of 1986, Cannon secured a contract of over $100 million with Viacom International, parent company of Showtime, which gave Viacom exclusive broadcast rights to select Cannon films, including Superman IV, not yet in production. Cannon also struck a deal with Warner Communications, Inc., in 1986. Warner purchased all domestic distribution rights–theatrical and ancillary–ain U.S. and Canada. Pre-sales agreements such as these provided the funds to amortize production costs and saved Cannon the $3-$5 million cost of prints and advertising which Warner, as domestic distributor, would pay.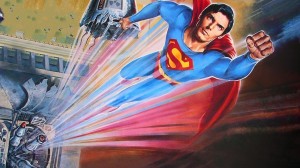 Superman IV performed fairly well on opening weekend in July of 1987. In the U.S., the film opened on a whopping 1,500 screens and brought in around $5 million, ranking fourth at the box office that weekend. In the UK, the film fared slightly better, opening at number two. In the long run, however, the film's earnings were less than impressive, bringing in $16 million domestically and ranking 69th among the domestic highest-grossing films of 1987. Abroad, too, distributors complained that they would likely not go into profit with the film. Reviews were also lukewarm. Janet Maslin of The New York Times criticized the special effects as "perfunctory" and "chintzy" and the cinematography "sloppy."
By 1987 and 1988, Cannon was in dire financial straits due to many box office misses, including Superman IV, a series of risky investments in UK theaters, and bookkeeping practices that overestimated earnings from ancillary markets. As a result, Cannon was more than $200 million in debt and nearing bankruptcy. Warner bailed Cannon out in 1987, purchasing much of the company's library as well as common stock. Rights to the Superman franchise, licensed to Cannon, were returned to the Salkinds at that time as well. Superman IV was in many ways a smart buy for an independent like Cannon, allowing Golan and Globus to exploit a well known property and star. Though Cannon was able to cover costs through pre-selling the film to domestic and international distributors, pre-selling subsequent rights diminished the company's ability to reap profits.  Moreover, disappointing opening weekend box office suggested that ancillary markets would likely not make up for theatrical losses. Even Clark Kent couldn't save Cannon from years of  risky expansion and low-reward pre-sales ventures.