Exploding Trains! Coming to a city near you!
North Dakota is often overlooked in media studies. We are a rural state in the middle of North America, and until the recent oil boom, far more people were leaving than moving here. The following post summarizes the research of one of my master's students at the University of North Dakota, whose work shines light on what makes North Dakota interesting and why media scholars in other places should care about what is happening here. — Kyle Conway
In the wee hours of the morning on a cold January day in 2002, a train carrying anhydrous ammonia, commonly used as a fertilizer, derailed near the town of Minot, North Dakota. Hanging in the air was a dense cloud of hazardous gas, but when residents turned on their radios to find out what was happening, there was no emergency alert system (EAS) warning. What Minot residents heard instead was a syndicated program that was also heard in New York City at the same time.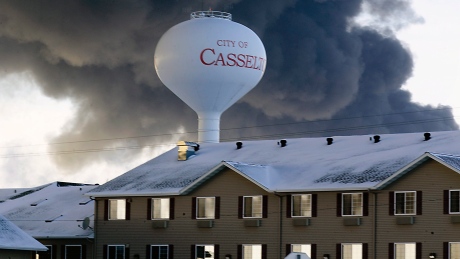 It's hard to believe that something like this could happen again, but it could. The concern has shifted from fertilizer to flammable crude oil from the Bakken formation in western North Dakota. In December of 2013, a train hauling Bakken oil crashed into a derailed train and caused a mushroom cloud explosion near Casselton, ND. In April 2014, another train transporting Bakken oil derailed in downtown Lynchburg, Virginia, resulting in oil spilling into the nearby James River. But the most dramatic train accident involving Bakken oil happened in July 2013 in Lac Mégantic, Quebec, and tragically killed 47 people. What would happen if a train exploded in places such as Fargo or the Twin Cities? Would the people in these cities hear about it right away or would there be a delay like in Minot all those years ago?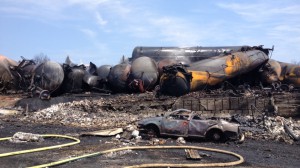 As in 2002, one of the problems now, at least where the media are concerned, is absent owners who operate their stations from a distance. The consolidation of radio ownership in the largely rural state of North Dakota is especially acute. The center of the North Dakota oil boom is the town of Williston, where KEYZ-AM has long been a mainstay in the community. But contrary to popular belief, the station is not locally owned. According to the Federal Communications Commission's ownership reports, which go back until 2001 for their electronic copies, KEYZ is owned by Arlington Capital Partners (Washington, D.C.) and is operated by its radio ownership subsidiary Cherry Creek Radio (Denver, Colorado). KEYZ flipped format from a country music station/farm radio to talk radio. The reason cited for the flip was the change in the type of economy in the area, from agricultural to oil-driven.
In Fargo, ND, the state's largest city, the two competing radio station groups swapped radio station ownership with each other not once, but twice. The first time, in 1999, the purpose was to maintain balance in the market. The second time, in 2013, one local owner wanted to retain ownership of a particular radio station. The same owner sold one station group and purchased the competitor within a year. One reason the swap took place was that there was a distant owner involved who looked at the market solely from a business standpoint.
Both of these cases of ownership are symptomatic of the problems with the Telecommunications Act of 1996. The passage of the Act lowered the standards broadcasters must meet when applying for and renewing their licenses, with a lot hanging on the ever-vague PICON standard. Radio is being treated as a business first and a public resource second – if that – more than ever before. With an increasing number of absentee owners there is little incentive to provide local news coverage of disasters – both natural and manmade – other than broadcasting an EAS. But even then there is proof that the EAS can fail people that are dependent of up-to-date information. When did making a profit become more important then public safety?
There is a need to study the dynamics of small, local, rural markets because little is known about them. As scholars, we have neglected them and focused on big markets. But there are more markets like Fargo (ranked number 204 by Nielsen Audio) than ones like New York City (ranked number 1). Fargo's proximity to the Bakken oil fields makes the prospect of exploding trains even more real, but there is a greater concern. These trains are traveling throughout the US and Canada. Cities close to the railroad tracks are in danger of a train derailment that could be transporting hazardous materials. Regardless of the size of market, there still is a need to have access to radio's EAS in times of disaster. Exploding trains are not the only risk we run, but they are a dramatic reminder that we need to study small radio markets because they show the flaws of current radio regulation.