No Place Like Home? Women on the "Outside" in Hindi Cinema
The wave of recent blockbuster releases with women-oriented themes in Hindi cinema share a common fixation with condemning exploitative patriarchal structures and the boundaries of marriage and motherhood for women in the home. At target here, ironically, is the Indian middle-class family, historically the intended audience for Hindi cinema and the institution that has most preoccupied the social and nationalist agendas of popular film.
However, films like Highway (dir. Imtiaz Ali, 2014) and Queen (dir. Vikas Bahl, 2014) share more than a rejection of domestic roles for women. They problematize the interior space of the home as a place both dangerous and oppressive while valorizing the outside/public as an emancipating space for performing women's agency. While superficially this yields little surprise, it acquires added resonance in the context of India's current position in the global media spotlight on women's safety and sexual violence. The Delhi gang rape in 2012 has come to iconicize women's struggles for gender equality, independence, and livelihood as women enter the public sphere in growing numbers in India. The gravity of the situation is indicated by statistics; a 2013 nationwide poll conducted by India Today International reports that 54% of Indian women do not feel safe going out alone (4 February 2013, 25). In a heavily mediatized political scenario where the increasing visibility of women outside the home is the core pivot of debate about social change, these films dispute the "outside" as a predatory arena for women while necessarily interacting with this discourse. Each film begins with the alienation of its female protagonists and their imminent peril when venturing beyond the home. In Highway, the protagonist Veera is gruesomely kidnapped by a group of men on a late-evening ride with her fiancé in a transparent reference to the incidents of the Delhi rape. In Queen, the eponymous character is rejected by her fiancé after a florid courtship that parodies the idealized tropes of heterosexual romance in Hindi cinema. Her delusions of love shattered, she takes advantage of an already-purchased honeymoon vacation only to find herself traumatized and alone in Paris – whose foreign streets are initially terrifying.
Ultimately these narratives come full circle by placing their characters on a trajectory of self-discovery that allows them to realize their own subjectivity – within limits. In both films the protagonists alternate between a circumscribed set of representational possibilities for women in Hindi cinema. At once victims of their circumstances, each heroine is notable for her naivety that is as much a source of pathos as a mode of vicarious pleasure. In Highway, we witness the heroine express her feelings for the first time in the company of her captors, who (as it turns out) are concerned only with ransom and not her sexual vulnerability. This irony is exacerbated by the whimsical attitude that emerges as she "adapts" to her situation, engaging a romantic bond with the gang's leader to the point that she refuses to escape when granted the opportunity. In the process she reveals her sexual abuse since childhood by an uncle at home that sets up a meaningful contrast between the open landscapes, mobility and psychological freedom she experiences on her journey and the forbidding domain of middle-class domestic patriarchy. The latter turns out to be more egregious than the kidnappers' otherwise overt act of repressive violence.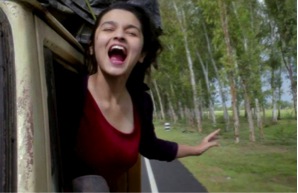 This conflict between interior and exterior is equally pronounced in Queen as the character is empowered to act independently for the very first time – and as far away from home as possible, where the suffocating expectations of marriage and family life seem to overwhelm any sense of agency. Like Veera in Highway, Queen's disarming innocence enables her to navigate transgressive situations in a way that is minimally threatening to conventional moral constraints on women's sexuality, even as the audience remains cued in to various implicit pleasures. Queen stumbles onto Amsterdam's red light district, shares a hostel bedroom with three boys, gets drunk and attends rock concerts while emerging with her chastity and sense of wide-eyed wonder unscathed. Even the prospects of a same-sex romance with a beautiful and openly erotic friend fully elude her. Her experiences in the foreign, urban settings of Paris and Amsterdam represent allegorically the challenges and liberties women face on the "outside" in a newly globalized India with expanding opportunities for personal fulfillment. Significantly, both films conclude on a similar note, featuring solitary shots of each woman outdoors and on her own that suggest an open-ended future unmoored by conjugal romance and family obligation. Not only is the "outside" safe, it is also the primary outlet for women to transform their lives.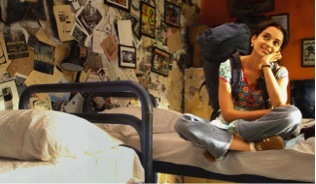 The Hindi film industry clearly has a heavy stake in political debates over women's public safety, bearing the brunt of popular accusation over the objectification of women's bodies onscreen. Highway and Queen resist women's visual presence – and sexuality – as a social liability. This is enforced by each text's conscious use of the dance sequence as an act of self-liberation (rather than sexual spectacle) for their characters. Each contains scenes of the protagonists dancing defiantly for their own pleasure that obstructs the representation of women's bodies as complicit objects of a prurient gaze. Spontaneous, carefree and mockingly seductive, the women use their bodies as an index of personal expression and not sexual availability.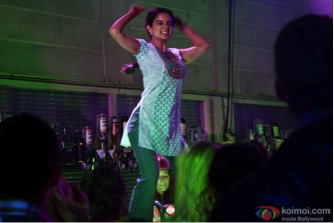 However, what is most telling about these two films are the processes of displacement the narratives use to deflect an authentic engagement with the issue of women's rights. The trials and redemptions these characters face are individual, not political, and are mitigated by the standard coming-of-age plotlines and melodramatic devices of commercial storytelling, with family and romance remaining obligatory entry points for considering women's agency. From media profiling of gender-based violence and discrimination to the active participation of women in the civic sphere, the intersecting realities of women on the "outside" in India are not so easily polarized as Veera and Queen's victories of independence.