What Do You Think? Mad Men Season 3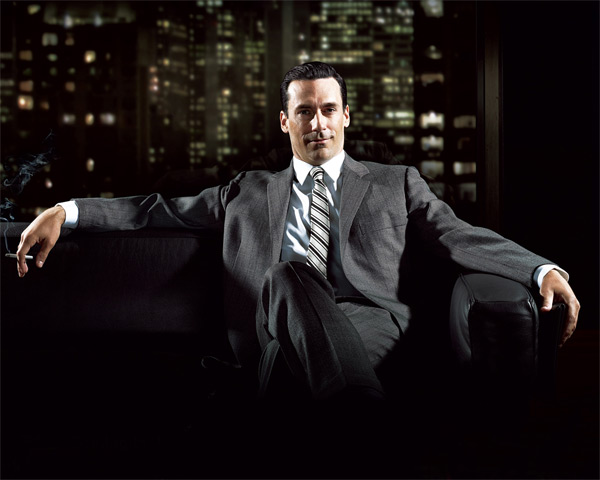 With Season Three drawing to a close this past Sunday night, what did you think of the finale and the season as a whole? Need I mention: spoiler alert.
Let me get the ball rolling –
Overall, it was a good season. This was the first one I had to watch week by week, which sucked, but I still love the pace of it. It's refreshing when a show can buck the go, go, go pace seemingly required by most of American television. I sense I liked the earlier seasons better, but this one worked well enough.
More specifically, what I disliked:
Where'd Peggy go this year? I missed her.
I also wanted way more Sterling, and don't think it's a coincidence that the best eps included more of him.
Early on, the editing to ads was atrocious. It seemed as though they just picked when the ads would come in by random. For a show that's all about advertising, they should know how ads work better than this.
The proposal. Betty didn't even look surprised. They just had their second kiss, and now he's proposing? Gimme a break. I love how Mad Men doesn't race things, but this was raced, and totally unbelievable. Henry Francis is a schmuck too.
The Brit stereotypes were just too much at times.
Poor Sal. Dude can't catch a break
Betty. January Jones does an excellent job, but Betty got more and more annoying. Big baby much? Some notable reprieves, but I found it so hard to like her. I know that Don's a jerk, and that he's just as guilty as is she, often moreso, but since they're giving him flashbacks, chances to be awesome at the office, and since Don has the general coolness of Jon Hamm on his side, the show needed to work harder to let me like her a bit more. I didn't like the feeling of taking sides
What I liked:
Great finale. Getting the team back together again. Pete and Peggy get their validation from Dad. Joan's back. Peggy shows some long overdue strop (and does it so much better than does Pete, but what do you expect?). Nice twist. More Slattery.
Underdone, but I like that they at least tried to say some things about race this season. About time.
The JFK assassination was handled well. Nice to see the personal reactions, and original footage aplenty
Pete dancing. Too funny.
I kind of love how this show is able to do with Don what Lost does with the island – the more that it gives us answers, the more questions come along with them. I feel that I'm getting to know him better, yet they always draw him back from arm's reach. He's a fascinating character, cool, flawed, an asshole, a nice guy, deep, shallow, etc. This should be Hamm's Emmy year, and if it's not, it's not for the writers' lack of trying.
Joan's storyline was really well done, showing how such a capable woman could run up against the wall of the (in)capability of her man. Extra points for the vase on the head.
The lawnmower/foot scene was truly unique in television history.
Please feel free to edit this post, and start your comments below this one, marking them off in some way as yours