What Do You Think? Apple's new iPad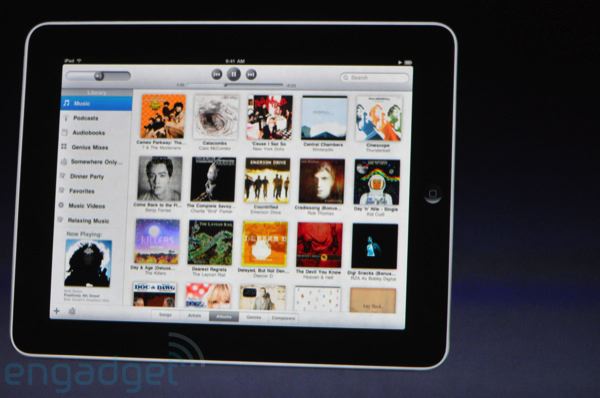 Thanks to the magic of live-blogging, Apple fans across the country were able to follow the announcement of Apple's long-awaited tablet in real time. The new product, called the iPad, experienced a lot of hype prior to its official announcement.
Its focus as a media and web surfing device has been particularly intriguing. Would this product function well as an effective mobile entertainment center? Would it change the way that people consumed media? Would it contribute to the number of people who are forgoing cable internet or declining to watch television in traditional ways? Many of my students say that they only really watch television via Hulu and similar websites. Could iPad be the media delivery choice for them? The rather unsatisfying answer is that it depends on the future of app development but right now the iPad's possibilities as a go to mobile-media device is troublingly limited.
It appears that because iPad is based on the iPhone OS and that you still cannot use flash on it, preventing users from using its web-surfing capabilities to watch Hulu or video from Comedy Central's web site. It is clear that YouTube works very well, but YouTube's offerings are limited. Similarly it would require new apps and patches to make Netflix Instant Watch viewable on the iPad or to make TIVO recordings easily uploadable and watchable on the iPad. However all of this would be theoretically doable and would make the iPad a good option for watching the ever proliferating options of on-line video. The extent to which Apple attempts to lock users into the iTunes store may remain telling in this respect.
On the other hand, this new development might have a far more serious impact on games. As pointed out elsewhere on this blog, games created for the iPhone have become an important sub-set of gaming. The iPad looks like a seamless and tactile device for the playing of games and may have its most impact on media consumption in this area. Like the iPhone the iPad will have multi-touch and games developed will have to adapt to the iPad's specific kind of interactive platform. This will likely continue to produce slightly different kinds of games, including educational games, for different kinds of gamers. This might be a particular boon to the casual gaming market Electronic Arts presence at todays announcement demonstrated that at least some game designers are ready to step up to this challenge. It could be in the area of games that iPad has its most impact on media.
As expected, the device attempts to compete with the Kindle or, more realistically with the Nook, with the introduction of e-books through a program called iBooks. Certainly the large screen looks like an enjoyable way to consume text, particularly magazines and newspapers with lots of color pictures, although its lack of a paper-like display will limit its usefulness for some people.
Additionally while the Kindle attaches to its data service for free, it appears the iPad will require data service from AT&T if it is to be used outside of a WiFi network. Given the far lower than predicted price of $499 for a 16G WIFI only base model (some commentators had predicted precises more like $1000) and the tremendous buzz that the product has generated, one can expect the product will do reasonably well commercially at least in the short term.
Whether or not it has an impact on the extent to which people choose to consume more on-demand entertainment, whether provided by iTunes or through internet services like Hulu.com or Netflix's Instant Watch, and whether or not it will change the way gamers feel about Apple will depend entirely on the Apps that are developed for it and whether or not Flash will eventually be allowed on the iPhone/iPad OS. (Or if companies like Hulu find a way around the Flash restriction) What do you think about this new product and its possibilities?