When Lost Said "Both"
As I've spilled many pixels on Lost on my own blog, I decided to do most of my blogging about the final season here on Antenna. So in the morning-after of the season 6 premiere, here are some quick thoughts. (Last warning for virgin eyes…)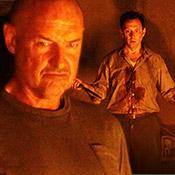 In the pregame hype leading up to the season six premiere, producers Carlton Cuse and Damon Lindelof revealed that they were done with time travel, but they were going to introduce a storytelling technique that would be new to the series. Thus in the anticipation to the premiere, my academic side was mostly focused on imagining what this might be (while my fanboy side was obsessing over whether this would be the end for Juliet & Sawyer!). Amongst fans and critics, a frequently asked question has been whether you were pro- or anti-reboot: should Jughead have succeeded in preemptively preventing Oceanic 815's crash, or might the bomb itself have been the incident that necessitated the Swan button-pushing (and presumably pushed our temporally displaced heroes forward in time to 2007)?
As we now see, Lost chose answer C: all of the above. This season's narrative technique (or gimmick if you're being uncharitable) posits parallel story threads, cross-cut with little explanation or plot-driven rationale. Another aspect of the pre-game buzz was that the producers claimed that season 6 would be a return to the first season's tone, and hinted that there would be openings for new viewers. Personally, I was afraid this might mean a return to simpler storytelling formulas, and an abandonment of the head-on sci-fi style of season 5 – thankfully, I was wrong. Instead, we've gotten a much bolder and riskier approach that seems designed to appeal exclusively to hardcore fans willing to take another step into the Borgesian rabbit hole, diving into a realm of productive confusion.
I've long contended that one of the key appeals of a narratively complex series like Lost is its embrace of the operational aesthetic, the dual pleasures of being immersed in a storyworld and marveling at the storytelling craft on display. Season six's premiere "LA X" delivers ample fan fodder for both the story – with character deaths and emotional repercussions, as well as partial answers & clues to key mysteries about the temple, the monster, the whispers, Man in Black, etc, – and its telling, with the mental calisthenics needed to figure out what might have happened in each timeline and how they might relate. The LA-based storyline also plays with viewer knowledge and memories in ways that seem unique to serial storytelling, drawing upon the vast array of memories we have about these characters to highlight how their lives have changed in an island-free world. Additionally, they effectively teased the audience with questions about Jack's internal thoughts in the first few sequences, as there were enough ambiguous references to past events like recognizing Desmond to hint that he might remember island life (another popular fan theory), but in the end it seems like these were just feints to get fans to over-interpret, part of the show's ludic appeal.  In short, this season of Lost seems designed to make us reflect on where we have been with this show, paying off long-term investments with moments of connection and callback.
There are certainly challenges to this mode of storytelling, as it would be easy to regard one of the two threads as "real" and the other as "alternate." Yet Juliet's message from the grave, "It worked," suggests that they are not fully separate, and it only makes sense that for the series to payoff, we need both timelines to have interrelated dramatic stakes. Damon & Carlton urge patience, something I feel they've earned over the years – although I feel like we'll need some good Faraday science expositional scenes, but poor Daniel is dead on the island and his pregnant mum presumably perished in the nuclear blast! (And how great is it that self-centered Jack managed to destroy an entire island and micro-civilization just to ease his guilt that he failed in a relationship!) If they do pull it off, it seems that the show may have raised the bar yet again for how experimental a network show can be – after all, could you have imagined in 2004 that we'd be debating whether a primetime hit should try parallel universes or stick with flash forwards?
Random favorite fanboy moment: Terry O'Quinn simply bringing it in the dual roles of sad sack 2004 Locke, and scornful dark island god. The combination of the two scenes of BadLocke lecturing Ben about those pitiful humans and the airport scene with Jack offering Locke a glimpse of spinal hope was just pure delight.
Bonus coverage: I've written a bit about Lost and ratings at Just TV if you want my take on the industrial side of the show.