Lost Wednesdays: Good Times at the Caves
Sorry for the delayed posting today – a snowstorm trumps blogging!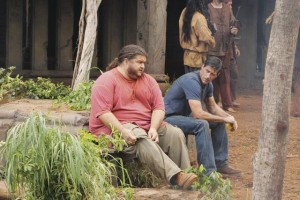 My overriding feeling this season is that the producers are having fun. Generally at our expense, but certainly having fun. This is not to say that season 6 is bad, but it feels a little too coy thus far, planting seeds rather than revealing ripe fruit. I still have faith in the long-term payoff, but I'm not having as much fun as I'd like.
As I said last week, I'm confident that this will all play much better on DVD and knowing how the pieces add up. But for the weekly first-time viewer, the dual timelines are both frustrating in opposing ways. The island plots are doing the typical Lost machinations, by answering one question ("what are the numbers?") with two more ("what are the candidates?" "what is this lighthouse contraption?"). I sense a grand payoff down the road, but after five years, our patience is rather strained. The intra-episode plotlines are still more about moving pieces around rather than any grand motions, so we care about the still-veiled macro-mysteries more than the micro-plots.
Meanwhile in LA, the stories are emotionally engaging and satisfying within the episode, but with the deep uncertainty of the larger picture serves as a cloud preventing full success as stand-alone stories. Last night's tale of Jack as daddy was quite enjoyable, and I think Matthew Fox played it quite well. But we were left with really big questions with seemingly incomprehensible options – how does Dogen live in LA? Did the island exert enough force over Jack's life to change the history of his appendix? As I spin possible plausible scenarios, they all leave me cold – virtual reality simulations, dream fantasies, etc. I know that the writers wouldn't resort to such trickery (they wouldn't, right?), but without any other real guidance, patience is needed.
I do like the role that Hurley has taken on this season, extending our fanboy surrogate into meta-narrator of Lostpedia theories (Adam & Eve time travel loops!) and callbacks to season 1 (good times at the caves!), as well as taking on the role of Jacob's oracle. And I'm growing to really hate Jacob for being a smarmy manipulative demi-god – Smokey's direct wrath is much more appealing. But Jacob's strategy of withhold & tease fits the overarching narrative logic of how the castaways live their lives, so he does seem to be the guiding force.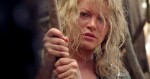 As for Feral Claire, I found her storyline underwhelming – we knew that "her friend" would be Smokey, so the reveal was nothing special. And the question as to whether she was truly infected or just driven mad by being abandoned for three years was a bit underdeveloped. But I'm glad to see her back as a force, and look forward to seeing her and Smokey's team storming the temple.
Random favorite fanboy moment: Hurley namechecking both Indiana Jones and Star Wars resonates with my own childhood media fandom, although I suspect he's supposed to be a bit younger than I.