Television and the Haunted Holiday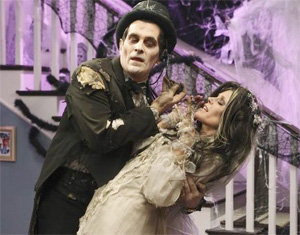 Each year, the weeks before Halloween are inundated with television episodes featuring costume parties, haunted houses, and trick-or-treating. It's the perfect television holiday: costumes bring spectacle, haunted houses bring suspense, and trick-or-treating brings a sense of ritual to the proceedings. It's simultaneously eventful and reaffirming, disrupting the everyday but doing so through a yearly tradition that unites family/friends/co-workers/etc.
This time of year is always particularly interesting for me since I have no real interest in the holiday: I don't particularly like candy, I've never been a fan of suspense- or fear-driven activities, and since it doubles as my older brother's birthday it was always "his" holiday. And yet I find Halloween episodes of television fascinating because of the unique opportunities available to writers and producers.
Take, for example, this week's Halloween-themed Modern Family: in "Halloween," the curmudgeonly patriarch ends up dressed as a gargoyle, while the rebellious teenage girl starts off with a "naughty cat" costume – both costumes are aggressively on the nose, but that's part of the appeal. It's meant to be a moment of recognition, where we realize that Jay really is a like a gargoyle and Haley would dress up as a naughty cat. The show isn't interested in the transgressive nature of Halloween costumes, as evidenced by the lack of connection between the episode's costumes and the conflict between Jay and Gloria in regards to her accent; instead, the show is interested in the idea that it's fun to see the characters the audience loves dressed up in extremely elaborate Halloween costumes, a simple pleasure and little more.
Although many Halloween episodes boil down to this sort of narrative, what makes the holiday so interesting is its versatility. It operates more or less independent of class: Modern Family's characters are considerably wealthy (just look at the quality of their costumes), but the blue collar family on Raising Hope is also able to take part in Halloween festivities in their own way. It also works across all demographics: the cast of Friends or How I Met Your Mother aren't going to go trick-or-treating, but between being a kid and having kids there is a stage where Halloween is an excuse to party. The holiday is similarly versatile in terms of situation, as it is just as relevant to a workplace environment or educational setting (like tonight's episodes of The Office and Community) as it is within a more domestic space.
However, the quality I think creators find most appealing about Halloween is that it blurs the line between fantasy and reality. It gives The Simpsons the license to abandon its normal structure for the "Treehouse of Horror" episodes, which are sort of the cornucopia of Halloween television tropes: casting the show's characters within famous works like The Shining, Nightmare on Elm Street, or The Fly is similar to putting characters into costume (which also happens on occasion), and within the series' twenty-one specials (the latest of which airs next Sunday) the show has tackled the holiday from almost every imaginable angle. Halloween is associated with so many gruesome and compelling ideas that it seems as if this trend will never run out of ways to represent the holiday.
To my surprise, though, there is some room for innovation in how these these elements of fantasy are used to a show's advantage. Last week, Parenthood built its Halloween episode around Max, who suffers from Asperger's syndrome. Having been sheltered from the holiday by his concerned parents, Max's determination to take part results in a dissection of the Halloween experience: his mother has him practice trick-or-treating with his sister, they ask neighbors to replace candles with glow sticks (since Max is afraid of fire), and they plan out a route to avoid the elaborate haunted house in their area. And yet, after discovering that his younger cousins are willing to face their fears, Max insists on going to the haunted house's door.
It's a great scene because it uses the same tools as one would expect from a horror film: time seems to slow down, Max's senses become highly active, the camera takes on his point of view, and his family waits anxiously as if they have just sent Max into an actual haunted house. And yet, the horror dissipates: Max screams, but of joy rather than terror. While the episode has the costumes we expect (including a bit of meta-humor in Mae Whitman, late of Arrested Development, wearing a Banana costume), it is less interested in humor of recognition and more interested in showing us a perspective on the holiday that we have likely never seen before, but through the use of a set of fantastical tropes we come to expect from the holiday.
This is a particularly populated year for Halloween episodes: since last year's success stories mostly avoided the holiday (outside of Community, which is doing it twice), this is the first year for full-on Halloween episodes for Modern Family, Cougar Town, The Middle and Parenthood, and news shows like Raising Hope, Better with You, and Outsourced are jumping right in. It's an ideal test case for the effect on ratings and critical success of such episodes (ABC's Wednesday comedy block was up sharply, for example), so I am curious whether anyone else has felt tricked or treated by this year's crop of ghoulish takes on your favorite (or potentially least favorite) shows.