Lessons from Los Angeles: Top Takeaways from the TV Academy (Part One)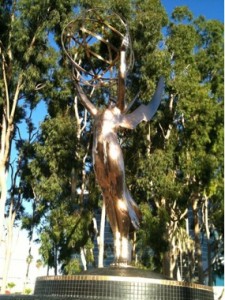 Each year, the Television Academy of Arts & Sciences Foundation gathers twenty faculty from all over the U.S. and gives them incredible access to studio executives, writers, directors, editors, producers, attorneys, and SFX artists…with daily field trips to studio lots and live sets thrown in. We were fortunate enough to take part in this year's Foundation Faculty Seminar, and wanted to share with Antenna readers some of what we gleaned during this whirlwind week:
1. Most "Tribal Knowledge" About Rights is 100% Wrong
A few words on copyright and clearance rights: If you are a writer, don't just register your script with the WGA West or East. The best way to legally protect your script and yourself is to buy a copyright. If production designer or set decorator, don't think that because you bought a picture on the wall or a painting, or got permission from a home owner to shoot in their house, that you now have any right to show that picture or painting in your series. It's a separate permission, and without it, you might end up spending thousands of dollars after the fact to get the rights or digitally erase it. If you are a prop master, make sure that a character doesn't get killed with a Heinz 57 bottle. Bad things should never happen with commercial products. You'll never get the rights. If you are a casting agent, make sure that the least ethical person in your docudrama is played by your most famous—and most attractive—actor.
2. Being a Showrunner is a Benevolent Dictatorship.
The appeal of being a showrunner is that you have an enormous amount of control over your project; you are the CEO of the show. The downside, is that that all of these other commitments take you away from what you love: the writing. That can be a blessing and a curse, since many writers agree that TV writing is the ideal job for people who hate being alone even more than they hate writing.
3. The Primetime Game Show Will Return
Two-and-a-half years ago there were seven game shows on primetime television. Now there are zero. We hear they will return! Fox's Million Dollar Money Drop might just kick off the resurgence in December.
4. Barney McNulty Was the Creator of Cue Cards
Of course someone created them, but now we know who.
5. If You Know What You Are Doing, You Can Make $8 Million in Fifteen Minutes
When a championship game goes into overtime, the operations producer at the network gets on the phone and starts creating his own match-ups. As the clock wore down in a close football game last year, Fox Sports VP Jack Simmons got on the phone and built another series of commercial breaks, found new inventory, and made his network a ton of money. Just don't ask him the score at the end of the game. He'll watch it on the DVR when he gets home.
6. The DVR Has Changed Everything and Nothing
The "Network called DVR" is contemporary TV's frenemy. Writers now have to work in a four-act structure for a 30-minute show, thanks to TiVo. While Live Plus ratings have given networks some breathing room to still benefit from time-shifted viewing, when Hulu puts a show up within three days of it airing, the Live+3 numbers go down substantially. At the same time, overall ratings are 15% higher in DVR homes than in non-DVR homes. People with DVRs watch more TV. But DVRs are still the minority in most American homes, so today, successful shows still get 40%-50% of their audience from the lead-in. The bottom line, according to broadcast programming executives: flow and scheduling still matter.