Protests in Wisconsin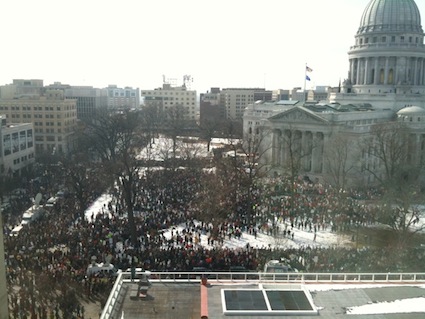 As you may've heard, something is going on in the state of Wisconsin. Needless to say, it's wrapped up a lot of our time here at Antenna. Governor Scott Walker has proposed his Budget Repair Bill, which would effectively eliminate collective bargaining for public workers in the state (limiting unions to negotiating wages, and even then tying them to the Consumer Price Index unless a statewide referendum ordered otherwise), would increase the percentage of healthcare costs that state employees need to pay, and would similarly increase the amount that state workers need to pay towards their pension plan.
Wisconsin was the first state to extend collective bargaining rights to all public employees, back in 1959. And now Walker has proposed his bill, and attempted to rush it without any discussion, in a move that would make Wisconsin not the forerunner of union rights, as it once was, but the forerunner in union-busting. Indeed, I winced with pain when I read an LA Times article that discussed other states' consideration of such "Wisconsin-style" measures, depressed to see the state has already become a descriptor of union-busting.
Most closely to home, this affects your beloved Antenna editors dearly. The TAA (Teaching Assistants' Association), and with it, our TAs, stand to lose a great deal. The Department of Communication Arts runs on the philosophy that we should take only those graduate students whom we can fund. While sometimes that funding takes the form of fellowships, lectureships, and/or PAships, more commonly it takes the form of TAships. The bill would increase our TAs' healthcare costs, but more drastically would kill their union, or render it impotent, unable to collect union dues by mandate and left solely to argue for marginal differences in salary. Of particular concern is tuition remission, a benefit which the TAA would of course no longer be able to fight for. At stake is also simple stability – the TA's contract with the state could be negotiated anew each year. While there are possibilities that some of these state measures could be counter-balanced through university decisions and policies, nothing is clear as of yet.
Some have pointed out that our TAs already get a much better deal than do many across the nation. Indeed, we're proud to be able to offer all that we do. Which is why the thought of giving it up is vexing. Why shouldn't we be ahead and offering more, rather than just one in the mix? "The mix" and the national norm is deeply exploitative of graduate labor, shamefully underpaying those who increasingly are doing the lion's share of undergraduate education. If graduate students traditionally gave their blood and sweat as downpayment on a good job down the line, as the nature of the academic market vastly reduces the number of those good jobs, universities' undervaluing of TA labor becomes all the more egregious and completely unjustifiable. The norm is a shambles, in other words, not something to aspire to, nor even something to resign oneself to.
Also close to home, the faculty will be affected, facing increases in pension and healthcare costs. And many of the other members of the university community, such as support staff, will be deeply affected, especially since few of them make professor-level wages.
More broadly, though, at stake is the fate of unions in this state. Beyond the pension increases, and healthcare increases (none of which I like) is the larger issue of 180,000 workers across the state whose union rights may be thrown out the window, and with them the belief in the need for negotiation with labor. If the Republican decision to change the name of the federal Committee on Education and Labor to the Education and the Workforce Committee wasn't a telling enough indicator of things to come, we're seeing a sea change in how workers are regarded and what rights they are – or here, are not – accorded.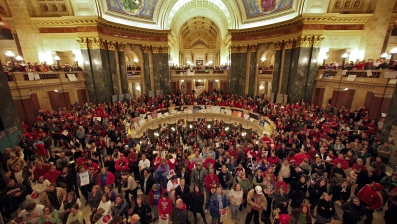 As a result, since Monday, thousands have been taking to the streets in Madison (and elsewhere in the state). Monday began with a focused protest about UW specifically, with protesters delivering valentines to the distinctly unlovable Scott Walker and talking about the effects to the university. Tuesday, Wednesday, and Thursday saw progressively more protesters both surround and fill the capitol building in Madison, and today promises more of the same. Teachers have called in sick, resulting in schools closing, and infusing the protester ranks with a large number of teachers and students. Thursday saw a university teach out, as will today. Even the firefighters and police unions – who have been exempt from the bill (a nice reward for their endorsement of Walker in the recent elections) – have turned out in force. Despite the best efforts of Fox News to paint the protests as "union hate rallies," they have been almost entirely peaceful, filled with upset people, for sure, but not "angry" mobs. And yesterday, to add to the intrigue, the state's Democratic senators first left the Capitol to deny the Republicans the quorum they needed to vote on the bill, and then left the state to avoid being hauled back by the Sergeant at Arms, whose jurisdiction does not extend to hotels in Rockford, IL.
Needless to say, this is weighing heavily on all of our minds. It's hard to think about much else. We hope to offer various perspectives and reports from the protests here in the coming hours and days, and I offer this post simply as a placeholder till those other posts arrive.