Public Protest and Public Screens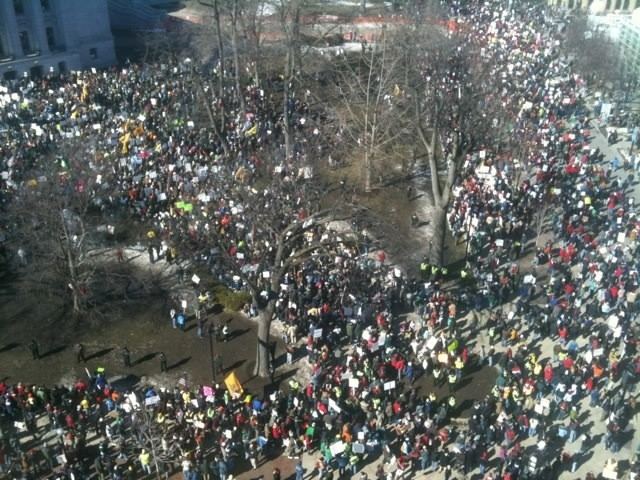 As we move through the 6th day of protests at the Wisconsin State Capitol in Madison, I can't help but be extremely exhilarated about being a part of this community. As my friends will tell you, I'm not much for communities, fandom, or most conventional forms of belonging. But over the past days, over which I have spent many hours protesting, I can't help but feel a little pride about being a newly minted Wisconsin resident. Now, I sit in a hotel room at an academic conference in Monterey, California, only having access to Madison through text message, Facebook, and occasional CNN updates. Being so far away from my community, I'm reminded of an argument made by rhetoric scholars Kevin DeLuca and Jennifer Peeples that we need to rethink the notion of the public sphere because so much of our democratic enactments happen not in a sphere, but on what they call the "public screen." In other words, most of our most important political conversations take place over various screens, like our televisions, computers, and cell phones.
Certainly Madison isn't the only political action occurring on the public screen, and I have no doubt that it is by virtue of watching actions on our screens take place in Tunisia and Egypt over the past several weeks that activists in Madison have felt so empowered. But what I think makes Madison very special is that, at least so far, events have remained completely peaceful. In the DeLuca and Peeples essay I mention above, they argue that, while not advocating violence, violence can be very useful during political movements because it makes it onto the screen. Then messages that may not have gotten through otherwise also get air time. Certainly their example of the WTO protests in Seattle in 2000 evidence this point, but I think Madison evidences a different point. Importantly, the government and law enforcement in Madison, unlike in these other locations, has not turned violent. Even as I have heard rumblings that Fox News reported that the National Guard was present in riot gear on Thursday, which I think was false, and they later suggested that the protests were sure to turn violent, violence hasn't yet happened. And the message of the protesters has, for the most part, received fairly accurate representation and wide coverage in many media outlets. Certainly the fact that many of the protestors are white and representative of "middle America" has a lot to do with the way these protests have been covered, but there's also more going on.
I think that the young people who have headed up so much of these actions have moved forward with clarity of purpose and message and they've been extremely proactive in disseminating it. The UW-Madison Teaching Assistants' Association, who organized the first action on the Capitol on Monday, February 14 hasn't strayed from its message, and it has been incredibly diligent for over a week now. Moreover, hundreds of youth descended upon the capitol Thursday to defend their teachers, their parents, and their futures. You can take a look at a group here: "This is What Democracy Looks Like":
As I sat in the Assembly hearing for two hours today waiting to offer my testimony, I listened to angry, articulate, intelligent high schoolers explaining that unlike what Fox News had apparently said about the youth being uninformed, they were very clear about why they were protesting. Of course youth have always been important to social movement. In 2010, undocumented immigrant youth, for example, completed shifted the nature of the immigration debates and mainstream activism through their public actions and publicly naming themselves undocumented in order to advocate for the DREAM (Development, Relief, and Education for Alien Minors) Act and comprehensive immigration reform. The young people involved in Madison are cut from this same cloth, so to speak, and I think it is from both their clarity in message, and their mastery of social media technologies that they have so effectively and peacefully used the public screen. It's hard to say what will happen as more national public figures and organizations continue to descend upon Madison, but for now, this first week presents some positive hope about democratic social movement possibilities in the age of the public screen.