Torchwood Miracle Day, Episode Three: Tonight's The Night?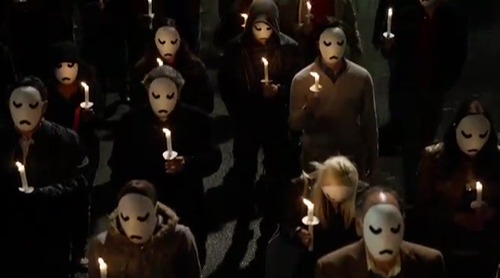 Not on BBC1, it wasn't. Because this episode's UK transmission was marked by what it failed to include. The Starz edit featured a sex sequence intercutting between Captain Jack and Barman Brad, and Rex and Vera, showing each couple rolling about in bed. But despite warnings about sexual content from the BBC Wales' announcer, the UK version skipped this entire montage, as well as cutting away pretty sharpish from a preceding sequence where Jack pushed Brad's head down below frame's edge (you know what I'm saying). No sex please, we're prudish. Both gay and het couplings were lessened, leaving classically coy post-coital scenes in place.
The Beeb have responded to complaints about this cut, stating that differing edits related to the show's "different audiences", and insisting that "in a later episode a sequence of gay sex is important to the story and therefore both the US and UK will show the same version." So the likes of Jane Tranter and Julie Gardner weren't able to gauge what would be suitable content for the episode 'Dead of Night'? Really?
One problem is that Torchwood has to function as 'TV III' in the US ('edgy' niche TV reinforcing the 'Starz Originals' brand, and drawing in paying cable consumers), while simultaneously acting as 'TV I' in the UK (broadcast TV for a mass audience). My feeling was that Russell T. Davies and co. would square this circle by focusing on 'edgy' concepts rather than sex and gore – a celebrity paedophile as protagonist; a world without death. But the tension between two different paymasters – with radically different imagined audiences, and imagined agendas – has now fractured Torchwood into 'TV III' and 'TV I' incarnations. The differences aren't national per se, but they're about the differing industrial contexts of Starz/the BBC.
And that issue leads me to John Barrowman.
Currently UK TV audiences are enjoying early Saturday evening light entertainment, Tonight's The Night, fronted by the bright-smiled prankster and granter of wishes. This BBC1 show draws on Barrowman's star intertext, frequently being linked to music and the theatrical. It presents its presenter as genial, playful, and family-friendly: Barrowman-as-everyman. But such an image seemingly doesn't match up well with depictions of Barrowman-as-Jack involved in gay sex (even safe sex). I can see no real reason for the BBC to have cut the Rex/Vera sex scene, but I can imagine a reason why BBC Execs would think twice about having a Saturday night family entertainment host appearing in a post-watershed sex scene. However, if they'd only cut Captain Jack's sexy time then they'd immediately have looked guilty of homophobia. In fact, if the BBC are concerned about Barrowman – an out gay man – playing a bisexual or 'omnisexual' character who has sex, and if they are concerned that this may contradict the family entertainment values of Tonight's The Night, then perhaps this remains nothing less than tacit, implicit homophobia. If only the BBC were braver – if they really wanted to stand by the fuller ideals of a 'public service broadcaster' – then they'd embrace Captain Jack as a character to be integrated with John Barrowman as a TV personality. Barrowman himself says in the latest issue of Doctor Who Magazine: "about 75% of it is wonderful writing, and then may be 25% because of personality. I put a lot of my own personality into Jack" (in Cook 2011:19).
But apparently there can't be too much Captain Jack in John Barrowman the 7pm BBC1 TV personality, and a clear semiotic divide has to be established between the two as far as BBC brand management goes. The DWM feature on Miracle Day may punningly equate it with Barrowman's early TV presenting career (on Saturday morning kids' show Live & Kicking) by using the banner title 'Alive and Kicking!'. And tabloid TV journalists may blur John/Jack: "It's not possible to watch him acting his pretty little socks off in Torchwood on Thursdays without seeing the presenter of Tonight's the Night… on Saturdays" mutters Jim Shelley in the Daily Mirror. But the BBC is mightily keen not to lead viewers from Tonight's The Night to Torchwood (though they'll happily take the reverse trade: Tonight's The Night was trailed after 11pm on BBC1 Wales last week, following immediately on from the Torchwood-focused one-off documentary, Wales and Hollywood).
The rationale that's sometimes given is that Captain Jack might entice Doctor Who's child fans into watching inappropriate material – but Jack's not been in Who for a couple of years; this may not be as active an issue as it once was. By contrast, Barrowman-the-personality-presenter is very much a live concern. It's the transmission of Tonight's The Night that's currently running alongside Torchwood, not Who. And as James Bennett points out in Television Personalities, "the role of the schedule in television personality performance" (2011:122) is crucial. Primetime personalities perform 'niceness', while post-9pm or post-watershed UK TV personalities perform explicitness and irreverence. Bennett discusses Graham Norton's mobilisation of sexuality in The Graham Norton Show versus his reduction to "fairy godmother" in How Do You Solve a Problem Like Maria (ibid). And right now, in the UK TV context, John Barrowman finds himself Norton-ed, or split into two incarnations.
As a result, Miracle Day faces not just the problematics of its own scheduling, and what's suitable for the 9pm slot. It also faces the puzzle of whether its post-watershed Barrowman can be reconciled with the early Saturday evening Barrowman of Tonight's The Night. And on the evidence of a missing sex scene, the BBC computer says "no". It isn't just death that's mysteriously halted here; sex has gone AWOL too, sacrificed via latent homophobia in order to create a branding firewall between Captain Jack Harkness and family entertainment personality John Barrowman. Miracle Day has been divided into two versions (Starz/BBC) in order to protect and insulate these two versions of JB.