Lost and Found Doctor Who: Time-Travelling TV?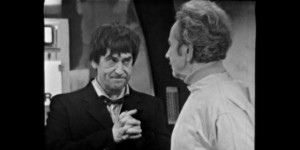 In the world of Doctor Who fandom, just a week or so ago, something tremendously exciting and important happened: two episodes of 1960's Who were returned to the BBC archives. The find was announced at a BFI 'Missing Believed Wiped' event, and soon the internet was abuzz with news of the discovery. 'Galaxy Four' episode three (1965) and 'The Underwater Menace' episode two (1967) might not have been considered lost classics, but the uncovering of an episode from each story still means more Doctor Who for fans to appreciate. 106 episodes remain lost, however – wiped many years back so that the BBC could reuse videotape which, at the time, was extremely costly. Richard Molesworth has painstakingly documented the whole debacle.
In the slower-moving world of TV Studies, meanwhile, scholars have been theorizing different stages in television's history. One way of contrasting TV's past and present is offered by John Ellis in the (2000) book Seeing Things: Television in the Age of Uncertainty. Ellis contrasts an earlier age of "scarcity" with the contemporary phase of televisual "plenty" (2000:39).
Bringing these two worlds together for a moment: what can the re-discovery of previously lost Doctor Who tell us about different moments of TV? Today's Who is readily available, whether via iTunes, or illegal downloading, on DVD or through TV repeats – it's not so much on-demand as always-there. The notion of this version of Doctor Who being ephemeral, or being lost after its broadcast, seems absurd. By powerful contrast, 1960s and 1970s Doctor Who wasn't just part of an era of scarcity, it was sometimes worse than scarce, becoming effectively non-existent in some cases, other than as telesnaps, audio tracks, and fan-made reconstructions. In the era of digital plenty, Doctor Who's participatory audience can mash-up, remix, and create fanvids… but even in the age of scarcity, fandom was already a pre-Internet participatory culture. Amongst other things, analogue fandom could involve making reel-to-reel tape-recordings of an episode's audio. Yesterday's fans didn't typically mash-up or remix; instead they recorded, archived, and preserved the TV culture of the day even when broadcasters themselves failed to do so. So although the re-emergence of two episodes of 1960's Doctor Who dramatically brings different ages of television into collision, the conjunction also highlights how today's participatory audience culture had its own analogue forty or fifty years ago. Scarcity versus plenty: it sounds like a binary, but it's one which hides shared patterns in fan activity as dedicated audiences pursue ways of replaying and commemorating their beloved fan objects.
At the same time, the discovery of old Who also illuminates vital changes in audience activity. For it is not only television itself which has shifted from "scarcity" to "plenty", or from what Mark Bould (2012:148) has recently termed "good-enough" TV (complete with William Hartnell's "billy-fluffs") to "quality TV" (single-camera, composed, 'perfected' drama). Audience interactions have also mutated and shifted; 1960s and 1970s fandom would itself have been scarce and "good-enough"; some fan knowledge was later proved to be wrong, as people mis-remembered story details and repeated them in print until they became fan lore. Fan interactions were also relatively scarce – restricted to slow-moving print culture or arranged meetings, shepherded by fan clubs and  similar fan institutions. Today's fandom is a web whirl of "plenty", a 24/7 always-on digital experience. On the day of the official announcement that more episodes had been returned to the BBC – Sunday 11th December – I encountered this news via Facebook status updates and comments, and through the iteration of many, many tweets: fandom was buzzing with developments, minute-by-minute. Real-time speculation and anticipation of a 5pm BBC announcement meant that fans were on tenterhooks – just like today's television of plenty, there was a similar abundance of audience chat, debate, squee, and swirling rumours.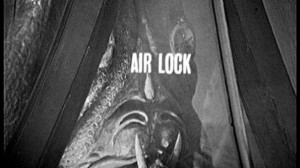 The irony is that while a flurry of fan comments circled around 'Galaxy Four' and 'The Underwater Menace', always-on social media was absorbing into its orbit two episodes of black-and-white Doctor Who which once belonged to a very different culture: an on-off TV world, where after it'd been viewed then a programme was gone, perhaps never to be repeated, never to be seen again. By surfacing online in Facebook and Twitter feeds, 'Galaxy Four' and 'The Underwater Menace' were travelling in time, in a sense, staging a clash of two cultures: today's always-on social media versus yesterday's on-off, here-today-gone-tomorrow telly.
But perhaps this tendency to create eras, and narratives of change, is itself somewhat misleading. Fans like to do this just as much as TV Studies' academics, of course (instead of scarcity/plenty, we could just as well debate "the Russell T. Davies era" or the "Hinchcliffe-Holmes years.") All these narratives, these ways of seeing television (and its audiences) are only partly true  – they blind us to the fact that culture is always somehow time-travelling, always rediscovering the past in new and old ways, always threading continuities through historical, technological, creative changes. Yesterday's analogue fandom was perhaps even more crucially participatory than today's digital fandom; and yesterday's "good-enough" TV, errors and all, finds itself mirrored in the fact that even today's "quality TV" is marked by occasional continuity errors, blind spots, and inconsistencies. Eras are forever impure, marked by their predecessors and by traces of the past which can't be exterminated. "Lost" Doctor Who is never entirely lost. And newly found episodes are never simply "found", for that matter, instead being read through and in relation to pre-established fan knowledge.
The tantalising return of two episodes of early Doctor Who deserves celebration. But perhaps the tempting notion of two cultures or past/present eras of TV deserves a measure of critique.