Stranded on the TV Battleground: Hulu's Invisible Original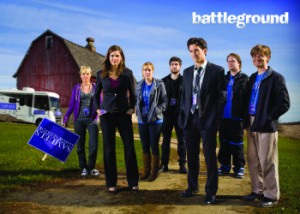 The post-network era has raised serious questions about what constitutes television, with an entire conference recently devoted to the question "What is TV?" Streaming media lies at the heart of many of these conversations, with original series debuting on Netflix and Hulu among those forms of media that challenge our traditional understanding of what constitutes a television show.
In the case of a series like Netflix's Lilyhammer, the traditional television distribution model is largely absent: while still episodic, therefore taking the form we most commonly associated with television, the Norwegian co-production was released as a complete season on the streaming service, and streams without commercial interruption.
However, in the case of Hulu's Battleground the similarities with television outweigh the differences. Debuting in February, a new episode of the show has been released each week, with each episode supported by ad breaks built into the program. The show is a half-hour comedy series, working with the mockumentary format commonly associated with series like The Office, and features an extended ensemble cast. In the buildup to the series premiere, Hulu held a panel at the annual Television Critics' Association Press Tour in January, allowing creator JD Walsh and the cast to speak about the show to gathered panelists. It was also, unlike Lilyhammer, not a co-production, created exclusively to stream on Hulu.
Regardless of these factors, Battleground has languished in relative television obscurity despite delivering what I would categorize as a solid first season (which concludes with the finale, premiering tomorrow on Hulu). The show, which follows a fictional senate race in Wisconsin, has grown from its pilot based on a strong lead performance by Jay Hayden, some compelling work by the supporting cast (including a guest turn from Ray Wise), and a solid use of the emotional swings of political campaigns to drive its narrative. Additionally, the show has shown a willingness to experiment: its tenth episode told a flashback story from the perspective of an MTV Real Life-esque documentary, a bold aesthetic decision that proved inconsistent in its execution but suggested a formal complexity one might not expect from a half-hour comedy. Also, the decision to film on location in Madison is both incredibly entertaining as a resident of the city and intriguing as someone who is studying the strategic use of location shooting to highlight categories of place – the use of the local ABC affiliate (WKOW) for news coverage, in particular, demonstrates a level of verisimilitude someone outside of Madison might not recognize.
However, as Cory Barker, Wes Ambrecht, and Andrew Rabin pointed out in a recent roundtable discussion, no one is talking about any of this. While it's unclear how many people are watching Battleground (although Hulu's website shows it ranked in as 78th most popular series on Hulu over the past month), the absence of any conversation within critical circles has proven particularly damning. Hulu might have held a panel at TCA, but the panel was reportedly poorly attended; while multiple outlets reviewed Battleground when it first premiered (including The New York Times and The A.V. Club), none of the critics or sites which focus on weekly episodic criticism chose to continue reviewing it week-to-week (despite at least The A.V. Club having precedent with their coverage of U.K. import Misfits based on its Hulu distribution cycle), and the New York Times review is focused more on the novelty of Hulu and Netflix creating original content than on the content itself. The show was so low on the radar that it doesn't even have a Metacritic page, unlike Lilyhammer which at least garnered enough reviews to merit a page and a score.
The reasons for this are not something we could prove scientifically, as most outlets make subjective decisions on what they do and do not cover. On the one hand, the show's low viewership would create less financial imperative for a site like The A.V. Club to hire a writer to cover the series week-to-week; however, in other instances where staff critics like HitFix's Alan Sepinwall have greater editorial control, the decision may have simply come down to a lack of time (understandable during a busy midseason dominated by shows such as Justified, Mad Men, and Game of Thrones, and cited by Sepinwall as his reason for skipping the premiere) or a lack of interest (which is, of course, a matter of opinion).
These are the same challenges that face any show classified as a sleeper hit – or the "best show you're not watching" as the above roundtable refers to it – but in many ways one would expect it to be easier for Battleground to gain traction: with all back episodes available to stream for free, word of mouth should more easily translate into viewers (including critics) catching up. However, streaming also presents barriers: Sepinwall notes he prefers to avoid reviewing streaming material on a laptop, and I'll admit that my own efforts to catch up would have been far more pleasant if I hadn't been tied to my computer.
While Hulu has made no official statement about the show's future, the show's lack of traction raises a number of challenges for the network's move into original programming. Does the network need to be more active in reaching out to critics by mailing them DVD screeners to review? Or do they perhaps need to be more bullish in promoting the series, buying airspace during network broadcasts of similar series (like The Office, for example, in the case of Battleground) or actually using their minimal social media presence more strategically? Or is this simply a lesson that shows featuring no stars and limited industrial pedigree are doomed to fail when airing in a marginalized streaming environment against a broad range of broadcast and cable competition, pushing Hulu towards more star-oriented programming like Netflix's acquisition of new episodes of Arrested Development?
I'd hate to see this final lesson be the takeaway here, but original streaming programming, like love, appears to be a battlefield.