The 2012 BET Awards as [Black] Family Reunion
Just before the season finale of VH1's controversial hit series Basketball Wives (BBW), some quasi-influential Black folks in the media went to Twitter to express their disdain for a show that for them placed Black women in the worst possible light. The depictions illustrated that we were loud, violent, angry, stupid–in short, everything that our parents' generation fought against in the battle of positive representation.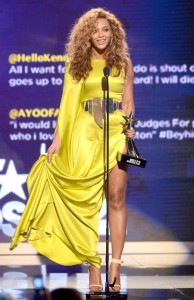 BBW epitomizes the contemporary struggle within popular culture and the burden of representation people of color daily negotiate. The failure to comply with the politics of respectability–the notion that demonstrating "good" socially acceptable behavior will make us more accepted in mainstream culture–is not new. But what is new are scholars trying to engage from in-between the positive and negative binaries and the space in-between blind love and total disavowal of these cultural products. Put simply, the space where one can love "foolywang" and simultaneously recognize that the product is, in fact, foolywang is what I want to address. And what better event to speak to that liminality than the 2012 BET Awards?
I love the BET Awards. Some call it minstrelsy* and a bootleg American Music Awards but that is precisely why, to borrow fangirl lingo, I have "so many feelings" about it. From its shoddy production values (which ironically get better each year) to its notorious failure of working props, e.g., the "door" that lifted for the presenters occasionally just stopped working without explanation–it is the disreputable character of the event that makes the BET Awards must-see TV.
The BET Awards' disrepute, for me, makes it akin to a Black Family reunion. Pride and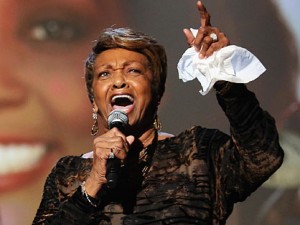 embarrassment undergird these very culturally specific events where family members who may not have seen each other all year get together and fellowship–often over food and alcohol–with one another. They remember those who have passed on, they celebrate those prodigals who have returned, they make us all pray, and they encourage the youth to display their skills in talent shows (seriously). The BET Awards incorporates all of these functions in its telecast. Let me offer a few examples.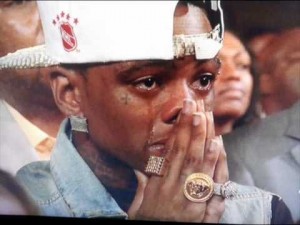 BET's tribute to Whitney Houston–including a moving rendition of "Bridge Over Troubled Water" by Houston's mother Cissy–can ONLY happen on BET. If Cissy had broken down and been unable to sing, I guarantee a barrage of "it's all right; take your time" responses would have emerged from the audience. When Whitney's mentees Monica and Brandy sung a few of her songs and the camera cut to audience reactions, the specificity of seeing both Donnie Simpson and Soulja Boy crying in response is tragilicious yet makes sense.
Similarly, Chanté Moore's tribute to Donna Summer can only happen at the BET Awards because, I mean, who else knows who Chanté Moore is but us?!
Not only that but when BET resurrects old talent who we love and gives them a platform to re-engage, it carries weight. Two years ago, El Debarge performed after an extended leave from the spotlight. From the moment he began singing, "All This Love" to the time he hit his high note on "I Like It" it was like no time had passed. Did we scream in excitement or what? This year, D'Angelo returned to the public eye after a twelve-year absence and the first bars of "Untitled (How Does It Feel)" had me sliding off my sofa in delight. I mean, y'all: it was D'Angelo. And he could still "sang." For those of us who hoped for a comeback, what better place than the BET Awards for it to occur?
I would never expect a regular music awards show to bring tribute to an old-school R&B band. That's BET's job. So it was no surprise when the BET Awards gave a Lifetime Achievement Award to Maze and Frankie Beverly (for my white friends think of this touring band as the Black equivalent of Phish or the Grateful Dead). What's more, watching Taraji P. Henson hold her purse and cellphone while dancing and singing to "Before I Let Go" or Beyoncé and Solange Knowles dancing to "Happy Feelings" just encouraged me to dance and sing as well. How can you NOT stand up and sing along to the songs many of our parents made us learn to love?
Finally, a constant at Black Family reunions is the "Jesus angle." Everybody loves Jesus–or pretends to–for at least a day complete with attending a Sunday church service. This is no different at the BET Awards. For every Maybach Music Group song where a strangely bejeweled woman exits in a, well, Maybach, there's a church song where inevitably Donnie McClurkin, Kirk Franklin, and/or Yolanda Adams will sing. And you KNOW that Bobby Jones will always attend. Explaining the complexity and contradictions of the Jesus angle would take another column but suffice it to say it is allowed because the awards are disreputable but also because it reaffirms respectability.
Here's the thing: rarely do Black folks get opportunities to celebrate like this publicly.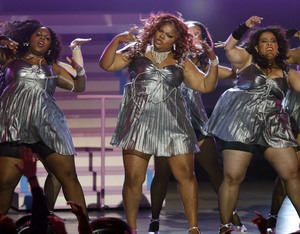 Rarely do we get the opportunity to "support the culture" as Jay-Z stated in regards to what the ceremony represented. Yes, the BET Awards are ultimately meaningless in terms of cultural cache–I doubt Beyoncé would reject trading her award for an Oscar if given half a chance. Yet, in terms of the Black community, it is the yearly reunion where Rick James and Tina Marie can reunite, running through the audience singing "Fire and Desire" and it is the place where Mo'Nique can do a better Beyoncé than Beyoncé with her "Crazy in Love" show opening. Its disreputability is the protective shield that allows it to be so damn fantastic.
*If Spike Lee calls it minstrelsy he'd be a damned hypocrite this year as he helped Samuel L. Jackson open the show with an old Black man's version of Jay-Z and Kanye West's "N*s in Paris."