Live from the Grand Ole Opry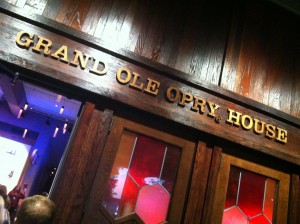 September 21st, I attended a Friday evening performance of the Grand Ole Opry in Nashville, Tennessee, which dates back to 1925 and is the country's longest running live radio show. Broadcasting live performances over radio is certainly not new to the medium, as one of radio's defining characteristics is—at least in the popular imaginary—its ability to transmit sounds from an occurring event to audiences in real-time. However, in many ways, liveness is also culturally constructed, and its relationship with radio is fluid and uncertain (especially in a digital age when radio is converging with "new media" through podcasts and internet streaming). However, radio has always been converging with so-called "new media," and the history of radio could very easily be considered a history of new media and technology. That could be the subject of another post, but even in this specific case study the significance of live radio performances is clearly intertwined with recording technology and production cultures.
Many of the popular contemporary radio shows that boast a live studio audience—such as American Public Media's Prairie Home Companion or NPR's Wait Wait…Don't Tell Me—are prerecorded with a live studio audience and distributed through syndication, and therefore the actual broadcast schedule is very much detached from the live performance. Nevertheless, listeners get what I would consider to be constructed sense of liveness in hearing the clapping, laughing, breathing, and gaffes that are sonic markers of liveness, and contrast with the edited recordings we hear on shows like Radiolab or even Nights with Alice Cooper—to use a commercial example—that have clear traces of post-production in their polished sound.
Additionally, all of our recordings of old radio drama performances exist because they were transcribed on phonographs, the new media of the time. The laughter we hear from the audience on an episode of The Jack Benny Show is very much imbued with liveness, though we listen to it now eighty or so years after its production. These old radio recordings remind us of radio's most unique trait as a medium: its ability for simultaneity, which is often held up as its most useful attribute. Whether or not this is true is debatable, but culturally the immediacy radio affords is reinforced by its direct address to the listener and its continuous flow, and our expectations for the medium are shaped by our experience with this liveness.
I return now to live radio performances, which I want to consider in this post along textual, industrial, and cultural lines. Let us go back to Nashville and the Grand Ole Opry. This radio show broadcasts two and a half hours of country music every Thursday, Friday, Saturday, and Tuesday (with two performances on Saturday night). The presence of a live audience functions in several ways to shape the meaning of the performance. For performers, the audience acts as a surrogate for the listeners at home, a group they can play to and address. The audience also models the ideal listener to those tuning in at home (or in the car, or through the Opry app, which you can download through iTunes), whose engagement and enthusiasm is signaled through clapping and other audible elements (whooping, cheering, etc.). Yet these live performances are also the product of the Grand Ole Opry's profit imperatives, as ticket prices bring in an additional revenue stream (the hall seats 4,400), selling for between $24 – $55. And the live audience aspect of the program also physically brings in a captive audience to sell back stage tours to, as well as items in its expansive gift shop, which offer the trademarked Grand Ole Opry line of clothing, the Grand Ole Opry line of perfume, packaged recordings of classic Grand Ole Opry shows, and much more.
On another level, these performances become a physical site of country music heritage and pilgrimage. It is one of Music City's top tourist attractions, and these profit imperatives would mean nothing if this live radio show did not offer its audience something worth paying for, worth commemorating with a tee-shirt or bottle of perfume. Additionally, the show offers an immediate connection with the legacy of the Grand Ole Opry. The foyer of the Grand Ole Opry building is lined with history, including photos and information from its 87 years of broadcasting. This colludes with its old-timey name, the cozy and informal style performers use to address the audience, and, of course, the live music variety show format, which in itself connotes an old-fashioned style. This format showcases a live, aural history of country music, playing everything from fiddle and blue grass music to contemporary hat rock country and gospel.
The Grand Ole Opry's mythic position in country music is epitomized in the pilot of ABC's new
television show Nashville, and the show begins with a performance at the Opry by Rayna James, the fictional central character in this drama about the country music industry. The Opry is a recognizable character throughout the episode, and it should be no surprise that Nashville is produced, in part, by Steve Buchanan, President of the Grand Ole Opry Group. Both programs are similar in their strategic promotion of country music. Like Glee and other television musicals, Nashville's music is available for purchase on iTunes. And the Grand Ole Opry similarly acts as a launching pad for country music artists currently on tour who often come on stage to perform their new single. We cannot divorce live radio from the production culture that shapes it, and here we see how the Grand Ole Opry acts as part of a larger brand that offers radio producers several opportunities for additional revenue streams, cultural engagement and a brand whose unique edge or difference is, in the case of the Grand Ole Opry,  built around its primary cultural position as a live radio performance.