In Below the Line: Producers in Production Studies in the New Television Economy, Vicki Mayer expands the definition of "producers" and "creativity" to include the contributions of below-the-line laborers, whose work is often dismissed as "merely" technical or skills-based. Mayer argues that reality show casters' work as sponsors is significant, as they "develop contests, events, and marketing schemes to buy access to those desirable participants who could stand for both the program's talent and its preferred audience" (Mayer, 104).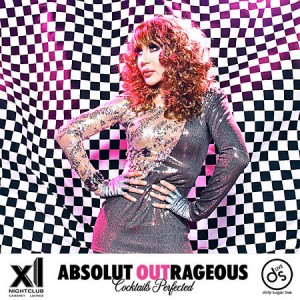 Talent-based reality television benefits from skilled casters' acumen for creating relationships between networks, actors, and products. Corporate logic dictates that it is intuitive for Project Runway contestants to storm through Mood clutching bolts of tweed or to film the America's Next Top Model cast hawking CoverGirl Lipslicks in a Wal-Mart. RuPaul's Drag Race, which airs its fifth season on Logo in January, is equally reliant on corporate sponsorship. Entire episodes have been built around RuPaul's music. In the third season, contestants reworked "Superstar." For season four, the cast was split into teams to create infomercials for the albums Champion and Glamazon. Every season finale involves the top three contestants filming a video with their host and mentor for her new single. Ru delivers the catchphrase "available now on iTunes" with a wink, but her eye is on the bottom line.
Drag Race has a tongue-in-cheek approach to sponsorship. Ru is not above poking fun at her own mercenary impulses. This is a trait she shares with her children. Many of the contestants already have sizable followings when they are cast to compete. Some of them work in the entertainment industry as make-up artists, designers, singers, and actors and work to turn their stage names into brands. During the runway competition in the opening episode of the All-Stars season, contestant Manila Luzon wore a Tinky Winky-inspired unitard, complete with a television monitor that played the video to her new single "Hot Couture." The casts are also aware of the aggressive nature of the show's product integration. During a recent episode of Untucked—the show's half-hour supplement that features the contestants throwing shade with Absolut-mixed drinks during the judges' Drag Race deliberations—the four All-Stars finalists cried after an emotional moment. As the queens dried their eyes, contestant Jujubee exclaimed, "I'm so glad there's Absolut Vodka napkins here. Just make sure you turn it out so they can see the logo." What is branding if not drag?
This sensibility also informs the entities with which Drag Race and Logo chooses to align. Several contestants won cruises with ALandCHUCK.travel and breast plates from Boobs for Queens. A number of the queens filmed advertisements for Gay Orbitz, one of Drag Race's sponsors. Logo also runs spots on its Web site for the Ali Forney Center, a New York-based non-profit that provides housing for queer youth and claims photographer and occasional Drag Race guest judge Mike Ruiz as a spokesman.
Many of Drag Race's sponsors are queer-owned. But its closest corporate parent is Absolut Vodka, a Swedish brand owned by French global conglomerate Pernod Ricard. It began marketing to queer consumers (particularly gay men) in the early 1980s. Contestants go on sponsored tours. Former contestants appear in advertisements. A number of Drag Race challenges also double as product placement opportunities. In season two, contestants designed memoirs and sat for interviews that required successfully plugging Absolut's Berri Açaí cocktail. For a fourth season mini challenge, the queens created platforms inspired by Absolut-trademarked cocktails and presented them to the company's PR director, Jeffrey Moran.
If the development of a symbiotic relationship between actors and products in reality television is the casting director's responsibility, then who is excluded by Absolut Vodka's sponsorship of Drag Race? Throughout the show's run, many contestants have critiqued the show's marginalization of Puerto Rican queens and queens of size as well as judges turning a blind eye toward contestants indulging in hipster racism. The show currently does not allow transgendered women and drag kings to compete. Queens who work in clubs outnumber and outlast their pageant and ball queen contemporaries. These casting practices leave little room for sober queens, thus minimizing queer communities' history with addiction and recovery. The queen who holds her liquor is the one wins the crown.
Drag Race's relationship to corporate sponsorship must also be put in dialog with Logo's recent decision to branch out from exclusively LGBT content. The initiative came with the new slogan, "No Labels." Such an expansion could still appeal to a broad queer audience while reaching outward. Last fall, season four winner Sharon Needles channeled her idol Elvira and hosted a horror film series. But Logo is still vulnerable to diluting the political project of queer visibility. In its first season, Drag Race was made on a shoe-string budget. Now it is handing out $100,000 prizes. The culture's commitment to glue, steal, and borrow itself into existence may be compromised on Drag Race amid all of this corporate negotiation.
Any scholar who studies representation (and may watch Drag Race) knows that identity is a fraught process. Recently, Drag Race alum Willem Belli partnered with Detox (season five!) and Vicky Vox to record a parody of Wilson Phillips' "Hold On" that disguised an attack against Chick-Fil-A president Dan Cathy's public support of anti-gay Christian interest groups as an endorsement of the fast food restaurant. Is advocating that queer people eat at establishments run by homophobes political action? Is it resistant when a fan tips you with Chick-Fil-A coupons he stole from work, as Willem claimed to have happened to her in a Drag Race recap? As a fan, I think it is potentially as resistant as devoting hours of television to drag queens building Pride floats, reading for filth, helping with their top stitches, and lip syncing for their lives. These negotiations are as old as American drag culture itself. If Drag Race isn't revolutionizing drag culture, it's at least carrying the title.