E-distribution gets "Weird" in Canada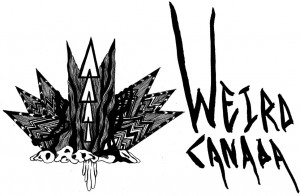 On April 1st, amidst a steady stream of April Fool's Day tweets, Weird Canada (an organization that profiles and promotes experimental, under-represented, and obscure Canadian musicians and artists) tweeted that they had received a grant from the Foundation to Assist Canadian Talent on Records (FACTOR).
The grant will be used to launch an e-distribution service for Canadian independent artists. Given that FACTOR has been criticized for predominately supporting "a small percentage of well connected insiders" who have both grant writing expertise and an established position in the Canadian cultural imaginary (The Trews, Metric, and Stars, for instance), I found myself wondering if the tweet may have been an April Fool's prank. Weird Canada, in my mind, wasn't reflective of recently successful grant applicants. However, the $50,000 FACTOR grant is legit and will be used to "create a specialized e-distro serving independent and Canadian artists, labels, and record stores, along with a customer-facing online store / gateway drug into the infinite mass of Canadian music." So why am I excited about this?
Artists and labels who identify as "independent" often do so in order to maintain creative distance from the standardized and repetitive aesthetics of major labels and/or the dominant music industry, either sincerely or, of course, sometimes as a convenient marketing ploy. With increasingly affordable production technologies, this distance is more attainable today than ever before. Yet distribution is still an issue, especially in a large country like Canada that has a relatively small and widely dispersed population.
Record labels of varying successes and statuses have faced distribution challenges. A number of labels that have started in Canada have established distribution deals with major (larger, international) record labels as they, as well as their artists, have grown in prominence. Last Gang Records, a label that has grown in recognition alongside groups such as Metric, Death From Above 1979, and Crystal Castles, has a distribution deal with Universal Music in Canada and SonyRed in the United States. These distribution deals enable the label to maintain their relationship with bands that are becoming more well-known, because the music can still reach larger national and international audiences, a task that can be beyond the resources and capability of a smaller label.
Vancouver's Mint Records, a label that uses a handful of smaller distributors like Outside Music and Shellshock, has faced a different set of complications. For one, their former distribution deal with Canadian independent label and distributor Cargo Records resulted in Mint losing a "substantial amount of money" after Cargo went bankrupt in 1997. Because of this, Mint also lost its most lucrative band at the time, the pop-punk band Gob. Secondly, the label has also lost prominent acts like The New Pornographers and Neko Case because of its inability to manage artists past a certain point. In other words, the label cannot match the power and reach of a major label when it comes to distribution. Both of these instances are nicely detailed in Kaitlin Fontana's Fresh at Twenty: The Oral History of Mint Records. In the book, Carl Newman from the New Pornographers explains that "Mint was a two-man operation, and Matador [the label that the band moved to] was based in New York and had, like, thirty people working there" (253). As well, Mint Records co-founder Randy Iwata reflects on the artists that left for larger labels, stating that "Neko [Case] and the New Pornographers proved that we aren't big enough to sustain a band's career after a certain point" (253).
And beyond Last Gang and Mint, there are numerous small and independent Canadian labels and artists who have access to a very limited set of resources and finances for which to promote themselves. As Weird Canada's grant application explains, "few emerging Canadian artists or labels have the necessary business acumen, marketing guile, and social savvy to effectively market and sell their music, leaving a great majority of Canadian talent unknown to a larger audience." The e-distro service would not only serve to connect fans and artists online but also help tangible recorded music reach record stores.
I am not suggesting that Weird Canada's e-distribution service will remedy all of the issues, tensions, and complications concerning the circulation of Canadian independent music, or that it will result in smaller labels being able to retain their artists for longer periods of time. The current technological, economic, and legal environments surrounding music are far too tricky to make any sort of assertion, and each band or label approaches music-making with a specific set of goals and aspirations. However, distribution remains a challenge for many artists and labels and this initiative is exciting because it creates a much-needed resource that can allow artists to more easily sustain creative autonomy.
There have been many great developments that have enabled and facilitated do-it-yourself production practices and this new service is a step toward doing the same for distribution. Weird Canada has already established a strong online presence as a distributor and promoter of Canadian music and, thus, they are well-positioned to create and sustain an e-distribution service.
It is also nice to see FACTOR put their faith in an organization beyond the tried, tested, and true industry-types. To borrow a conclusion from a recent post on this issue by Michael Rancic, "Giving Weird Canada any money suddenly makes FACTOR a much more complex organization than they had made themselves out to be. This grant honours FACTOR's commitment to Canadian independent musicians and represents a huge opportunity for Weird Canada to help level the playing field."