What Are You Missing? March 31-April 13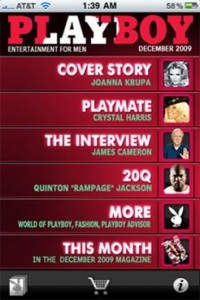 A few interesting news stories you may have missed…
1) News Corp's COO Chase Carey is threatening to turn Fox into a pay cable channel if courts continue to allow the new internet television broadcaster Aereo to profit from its retransmissions of Fox programming. Courts have so far ruled in favor of Aereo twice.
2) The popular social media site and bibliophile hang-out, Goodreads, will soon be under the ownership of Amazon.com. While Amazon VP Russ Grandinetti says this will help self-publishers "promote their books on Goodreads," a number of Goodreads members are apparently leaving the website to prevent Amazon from monitoring what they are reading.
3) Speaking of good reads, Playboy announced it will start delivering its magazine through a new iPhone application. However, due to the no-nudity policy on iPhones, the app will not include any of the publication's erotic photos.
4) Dolby announced that several more titles — including Man of Steel and Wolverine — will receive the company's Atmos treatment later this year. The new 64-channel surround sound format was introduced last summer and has been wired in more than 90 theaters worldwide. As of now Dolby has no plans to make Atmos available for home theaters.
5) Continuing WAYM's interest in HBO GO's potential to provide a GO-only subscription, HBO now suggests they are looking to provide live streaming of non-boxing sporting events through their GO service. And in case this should ever come up, if you are a New York Times columnist you should maybe think twice about announcing to your readers that you steal HBO GO from a friend.
6) Continuing WAYM's interest in covering the potential Hulu buyout, last Friday former News Corp president Peter Chernin made an offer to buy the streaming website for $500 million. Chernin was involved in developing Hulu for News Corp during its launch in 2007. Among other investments, Chernin is also looking to buy Fullscreen, a company that supports and advises creators of online content for websites like YouTube.
7) In Kickstarter news, the Veronica Mars Movie Project has ended its record-breaking Kickstarter run with 91,585 total backers, more than any other project in Kickstarter's short history. The crowd-sourcing website was also slated to help Roger Ebert re-launch his weekly television show, though those plans have been sadly cancelled.
8) The digital cinema projection company Cinedigm has continued its push to distribute movie and television content by acquiring digital and VOD rights to more than 1,000 episodes of Australian television. Cinedigm is also now conducting DCP instillations on more than 100 drive-in screens across the country.
9) In DreamWorks Animation news, the company has acquired the intellectual property rights to those Troll dolls from yesteryear. The company also appears to be recovering from Rise of the Guardian's disappointing release last November, with The Croods currently exceeding $200 million at the foreign box office, making it the second film in 2013 to gross more than $300 million worldwide.
10) The script-thief's revenge… and does he take requests?