What Did You Miss? Year in Review – UPDATED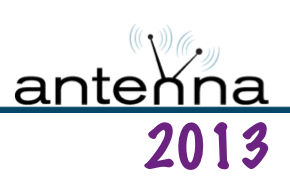 As 2013 comes to a close, we here at Antenna are taking the time to reflect on the media and media stories of this year that we didn't get to spend quite enough time thinking and talking about. This post will be updating over the next few days as contributors continue to add more content. Do you have a media text, event, news or story that you felt needed a bit more attention? Please share it in the comments below.
Commercial Spots on Radio Two – Christopher Cwynar
One unfortunate development from this year that faded from view all too quickly is introduction of commercial messages to CBC Radio Two, the Canadian Broadcasting Corporation's national arts and music radio service. The national public broadcaster had not aired promotional messages on its AM and FM radio services since 1975. It had been the only national North American public broadcasting forum to operate without any sort of commercial content. Over the course the nearly four decades since that policy came into effect, the CBC's radio services have come to be identified with distinctive programming in the arts, culture, and information genres that is notable for its quality and accessibility. But now commercials have returned, brought on by a looming 10% cut to the CBC's budgetary allotment set for 2014. The spots bring some revenue, but they come at a tremendous cost. This development underscores the extent to which the CBC's operations in television, the Internet, and radio have become increasingly integrated with the broader media marketplace to which the institution is supposed to provide an alternative. In these neoliberal times, it is understandable the public institutions would look for new revenue sources. At the same time, the R2 commercial fiasco demonstrates that such efforts can provoke the ire of audiences, competitors, and commentators. While the revenue boost helps in the short term, the only long-term solution for an institution like the CBC is to recommit to its foundational mission of providing a national public alternative to the marketplace. This writer hopes that the CBC will learn from its own institutional history and move in this direction when it is faced with the challenges that will inevitably emerge in the year to come.
Summer Break – Myles McNutt
This is somewhat a space to explore the things we wish we'd written about for Antenna, so for me that would be the Chernin Group's Summer Break, an online cross-platform "reality webseries" that followed a group of southern California teenagers across both a traditional YouTube webseries and through their Twitter and Instagram accounts. While missing every opportunity for critical commentary on the privilege it documented, and forced to bend over backwards to feature its sponsor AT&T's products, the series was thrilling as an experiment in dynamic storytelling, adjusting its strategy mid-series following harsh trade press reviews and negative viewer feedback. While its textual narrative relies on typical teen docudrama storytelling, its paratextual narrative was ever-changing, and often in the hands of teenagers with minimal social media training, making for a fascinating window into a new generation of producers and participants in social media storytelling.
Online Games – Phil Scepanski
In my opinion, there is far too little attention paid to free online games. These games are often very unique and provide a forum for deep community involvement. My vote for the best of this year's free games is a fascinating meta-game called Swords and Potions 2. It takes place parallel to a traditional hack & slash RPG except that you play the role of a shopkeeper, managing your resources and workers in order to supply different adventurers with the supplies they need to go off and explore in a world that exists outside the walls of the shop. In order to gather resources, you cooperate with other players, contributing some of your profits to the common good, by upgrading mines, sawmills, etc. While it is never in the best interests of the individual player to donate, it is always in the interest of the greater good, which adds an interesting element of altruism and responsibility. It's a very clever concept, well-executed, and supported an interesting and smart online community.
It can be found here: http://www.kongregate.com/games/EdgebeeStudios/swords-and-potions-2
Watch ABC – Kyra Hunting 
After several years of free video content from its streaming TV app, ABC is following in the footsteps of other ABC/Disney products like its three Disney channels and locking down its best content. Starting in January recently aired episodes will only be accessible to app users with a Cable or Satellite provider provided log-in or through the pay-service Hulu Plus, with episodes available a week afterwards for other viewers. This is an extension of the Disney apps, which require a cable log-in for the majority of full episode content, and its introduction of live TV streaming in select markets this summer, which required a similar log-in to access. For many users this is not a notable event, an extension of their viewing practices on Watch Disney XD, HBO GO, or Watch TNT. But it is, conceptually, a bigger shift. Most TV Everywhere apps that require these sign ins are for cable channels, providing content that was, from the outset, part of a pay-TV economy. Watch ABC provides access to programming from the broadcast channel, programming that has traditionally been accessible to the public, used public resources and was paid for through advertising. Making a cable or satellite subscription the precondition for watching Live TV or recent content on the Watch ABC app has the potential to blend the distinction between Broadcast and Cable television even further, something that often confuses my students, minimizing further the status of broadcast commercial television and the role of legal "free" television while trying to stem the cord-cutting tide.
Rabbids Invasion – Kyra Hunting
Rabbids Invasion might not have been the most successful or splashiest children show of the year but it is an interesting addition nonetheless. The new Nickelodeon show is one of a small number of shows based on video games, like Adventures of Sonic the Hedgehog and The Super Mario Bros. Super Show!. Originally conceptualized for the Xbox One as an interactive program, the program was an extension of the popular Rabbids game franchise—itself a spinoff from Ubisoft's Rayman franchise—and it ultimately instantiated as an animated series. The series is notable in many respects. It was produced by Ubisoft's Motion Pictures in Paris with an international group of artists and writers, co-financed by Nickelodeon and France Television. The show is well suited to being a global production because it includes very little dialogue, which is in my mind its most significant feature. Made up almost entirely by the babble language spoken by the Rabbids, the show depends primarily on visual humor and demands the complete visual attention of the viewer in order to follow the narrative. Given the frequent use of television as background, including for young viewers, the fact that this show demands a higher level of attentiveness and experimentation with purely visual storytelling makes it a notable addition to this years television schedule.
This American Life Harper High Series – Eleanor Patterson
Public Radio franchise This American Life (TAL) sent several reporters to Harper High School on the South Side of Chicago for five months to immerse themselves in the violent, gang culture that Harper High's students live in. The result was a 2-episode series that aired on public radio stations and was podcast in February 2013. As the year draws to a close, I reflect on this media moment as a significant one for several reasons. First, I would propose that any episode of This American Life is significant because it is usually the most downloaded podcast, and is a radio program distributed to thousands of radio stations in the US, Canada, and Australia, with films, television shows, and live performances.  Given TAL's prominent platform and large, loyal listernship, the exploration of gang violence at a Chicago High School becomes more significant. I use the first episode as a case study for my students in my Race, Ethnicity and Media class because it so deftly illustrates the confluence of industrial imperatives, textual elements, and audience engagement. The sonic color line between white reporters and black subjects creates textual boundaries that reinforce racial difference, but also invite listeners to experience Harper as an exotic, other locale, for which TAL's white reporters act almost as tour guides. This is perhaps most evident when reporter Linda Lutton lays out "the rules" of gang life at Harper High School in her blasé, low timbre that connotes educated, whiteness, whose difference from the violence she describes heightens how out of place she is in this community. These sonic racialized barriers are a clear nod to public radio's imagined audience of upper class, white listeners, who it targets to be appealing to its corporate sponsors, and also charm during pledge drives. And while This American Life has many listeners beyond their target audience, audience comments on the donation page set up by This American Life and the school administrators after the episodes air are very telling. It is clear that audiences make sense of the Harper High School community as a distinct, racialized other whose blackness must be fixed, by one commenter, it is even suggested we ought to send in the Nation Guard. I could certainly write more about TAL's Harper High feature, but if you missed it, you can check out the episodes yourself here. I will say, though I am critical of the racial hierarchies I feel these episodes reinforce, I am also a fan of the show, and found myself moved to tears the first time I heard the Harper High episodes. And so, I am ambivalent to wholly disavow the significance of bringing Harper High's story to public radio's audience, because, even at its worst, these episodes also belie a desire to know and understand the South Side of Chicago.