Olympic commercials: A quick lesson in corporate ownership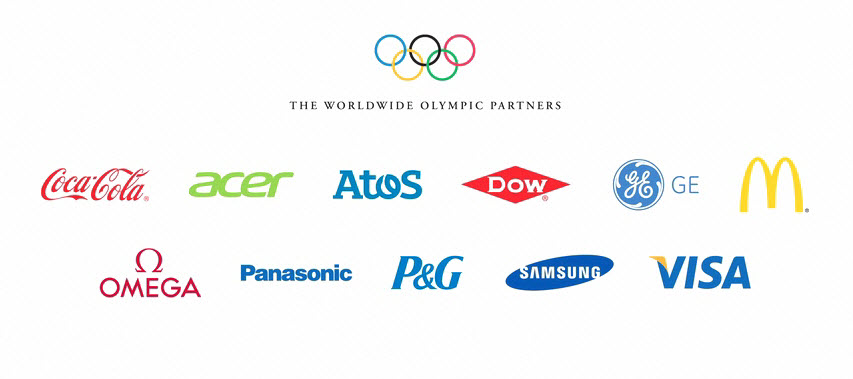 The Olympics are over, but for the past few weeks competition and patriotic-esque commercials have dominated (some) of our screens. Some of the ads poked fun at Putin's anti-gay propaganda laws (though U.S. righteous indignation seems a little disingenuous in light of Arizona's recent bill). In between shouts of disbelief (yes I do think Yuna Kim was robbed, and no I don't actually know anything about figure skating), cringing at bone-jarring falls (I still cannot understand why someone would go ninety-miles down a mountain with sticks strapped to their feet—and I play ice hockey), and cheers (or jeers) at last second victories (Go Canada!), I watched a lot of commercials. A lot of commercials that were repeated day in and day out for weeks. Hidden in plain sight in those commercials is a story of corporate ownership that is often only revealed in Media Industry 101 classes or lefty-liberal blogs; a story encapsulated by Team BP.
It might seem a little ironic that BP, or British Petroleum, has committed millions to sponsoring the US Olympic team, but its actually not that surprising in a world where most corporations have operations that span the globe. It's also clearly part of long-term PR moves by the oil giant, started during the 2012 Olympics, to distance themselves from Deepwater Horizon spill. The commercials featuring Team BP, moreover, are a good entry point into seeing just how many corporate pies the multi-national oil company has its fingers in.
If you watch the "BP's Team USA" commercial, it seems rather innocuous as Olympic commercials go: Athletes prepping for success that is somehow powered by fossil fuels ("American energy, wherever it comes from"). As members of Team BP are Top athletes in their fields, it is not surprising that they appear in several other commercials as well. Interestingly, however, though these other spots never once mention BP, many are from companies in which BP owns stock. Alpine Skier Heath Calhoun is in a touching AT&T ad; BP owns 715,000 shares of AT&T.[1] The shots of hockey player Julie Chu and cross-country skier Kikkan Randall in the Team BP ad actually appear to be lifted from their individual commercials for Bounty paper towels and Kashi cereal respectively. BP owns 425,000 shares of Procter and Gamble, the parent company of the Bounty brand. In fact, Procter and Gamble owns many of the brands featuring Olympic athletes in their commercials including CoverGirl who sponsors BP Team member Ashley Wagner and non-BP team members Gracie Gold (who is also sponsored by Visa in which BP has holdings), and NyQuil who sponsors Ted Ligety. Interestingly BP does not have holdings in Kellogg's, the parent company of Kashi and competitor to Kraft (of which BP owns 204,000 shares) and General Mills (of which BP owns 46,000 shares). Kellogg however has long been an Olympic sponsor. Moreover, since members of Team Kellogg overlap with Team BP (Heath Calhoun and Kikkan Randall) and many of the companies for which Team Kellogg athletes appear in commercials are among those BP has holdings in, the cross-promotion is less surprising than a first glance would suggest.
Looking more broadly, BP owns shares of half (five out of ten) of the Worldwide Olympic Sponsors:
Coca-Cola: 317,000 shares
GE: 1,570,000 shares
McDonalds: 161,000 shares
P&G: 425,000 shares
Visa: 71,000 shares
They also hold 67,000 shares in Nike and 25,000 in Ralph Lauren, official outfitters of the US Olympic team and 470,000 shares in Comcast (parent company of NBC the official Olympic broadcasting partners).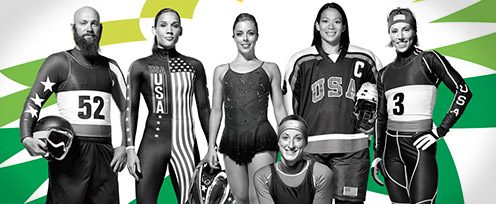 There are many different reasons people are concerned over the commercialization of the Olympic games.  There is, for example, the argument that is ruins the spirit of the games, something people as different as author Mary Perryman and the Pope assert. In response to those allegations, long-time IOC member Richard Pound argues that sponsors are the reason there is such a thing as the Olympic games in the first place. It's always worth considering the hypocrisy of rules that don't allow athletes to talk about or display those corporate sponsorships at the games, however (although social media is allowing some a way around that). The biggest story in tracing the corporate investment trail hinted at by BP's commercial, however, is that it's not enough to talk about individual companies trading in on the media spectacle that is the Olympics. In contemporary capitalism many of the corporate sponsors are making money off of other companies making money off of the Olympics. That's pretty meta. Transnational capital is the big winner of the Olympics regardless of which athletes end up on the medal podium.
---
[1] All information on shares are from the BP's SEC holdings report: http://www.sec.gov/Archives/edgar/data/313807/000031380710000008/bpplc13fhr1q2010.txt