Steven Soderbergh: Television's Latest Showrunner/Auteur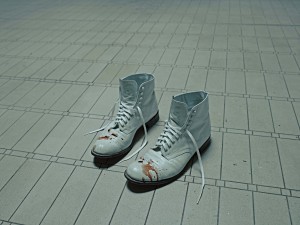 Taking no time whatsoever between his retirement from film and his move to television comes Steven Soderbergh's The Knick — a period medical drama starring Clive Owen and released on HBO's less reputable sister station Cinemax. Soderbergh's unique signature is fully on display in the series, not simply in terms of his distinctive color palette and fly-on-the-wall camerawork, in his alternating timelines and flashbacks, or the show's association with a star who often gives the performance of their career (as Owen delivers here), but with his preoccupations with themes of social justice, atheism, race, social class and the institutions where these ideas intersect.
Because the director is also his own cinematographer and editor (under the pseudonyms Peter Andrews and Mary Ann Bernard) the final product is a distinctive Steven Soderbergh experience — something in-between a medical procedural and an art-film. I would be remiss if I didn't mention the ambient score of longtime collaborator Cliff Martinez, whose anachronistic synth score makes the series all the more remarkable. It is precisely this fusion of cinema, television and personality that has critics resounding with near-universal praise for the show, resulting in a very heavy ride on the Soderbergh bandwagon.
Curiously enough, Soderbergh has actually received some of his highest praise for his work on The Knick. Reading the reviews, one almost forgets that only six years earlier, critics stormed out of Che at the Cannes Film Festival, beginning the filmmaker's long and slow departure from the film industry. Soderbergh's other engagements with history have barely registered in the critical canon. More accurately, they were all panned. Soderbergh's second film, Kafka, with its concern with the 19th century, bad science, mad doctors and their experiments on live subjects fared so poorly that it has yet to be released on DVD. Nevertheless, The Knick and Owen's Dr. Thackery share DNA with this early film. Likewise, The Good German was so poorly reviewed that it shares the same Rotten Tomatoes rating as Paul Blart: Mall Cop (both at 33% fresh).
As someone who has studied the filmmaker-cum-TV-showrunner for some time, this is the most fascinating part of this story, for me, as Soderbergh's reputation has been rehabilitated entirely —  to the point of retrospectives emerging which praise movies that were universally accepted as failures (even Solaris!) as few as several years earlier.
So, what accounts for the change in opinion? Well, as Andrew deWaard and I argued in our volume The Cinema of Steven Soderbergh: indie sex, corporate lies and digital videotape, the director has always been ahead of his time and oftentimes ahead of his critics and audiences. Thus, his direction doesn't always match with the moment that his films are released, nor with the critical climate in which they are received. But when Soderbergh wins, he wins big — as evidenced by his Oscar win for Traffic in 2001, his Palme D'or for sex, lies and videotape in 1989, and his recent Emmy win for Behind the Candelabra (2013). Similar to the indie moment ushered in with sex, lies and videotape, (coincidentally, almost 25 years ago to the day of The Knick's release) the series marks the director's return to the spotlight at a moment when conversation about American culture is shifting away from "cinema" and towards quality TV. Not only does it presumably mark the arrival (or legitimacy) of television as an art form, but arrives as a sort of art-film/quality television fusion. The Knick lands at a moment when debates about TV include calls by critics such as Matt Zoller Seitz to consider television's aesthetic qualities and studies by academics such as Michael Z. Newman and Elana Levine's, who chronicle television's ascendence as a "legitimate" cultural form.
The Knick is, finally, an example of Soderbergh's business savvy and his investment in his personal brand. Though Soderbergh has always pushed at the borders of creativity, industry, technology and commerce, his move to Cinemax (rather than HBO, even though he had the opportunity to) has certainly bought him more leverage and exposure with this series — not to mention control of the way it is being received. Soderbergh's doubling down on the medium has him executive producing two more shows for upstart networks – one an anthology series based on his 2009 film The Girlfriend Experience for Starz, and another, Red Oaks, a series pilot for Amazon directed by his longtime collaborator and 1st Assistant Director Gregory Jacobs.
We'll see how The Knick fits into the director's ongoing and storied career after the series rolls out but I think that it's safe to say that Soderbergh's signature and influence will pop up in other unexpected places on the small screen for some time to come.