What Do You Think? Most Important Music of the Decade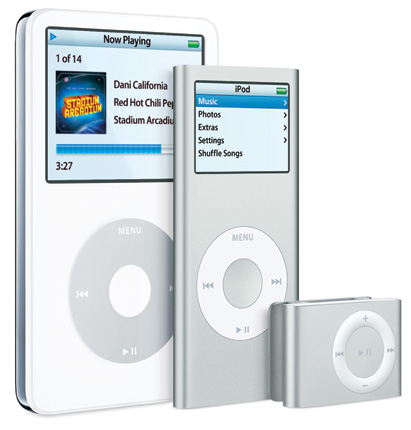 Continuing with our series (film still to come, TV and websites already here and here), what musical recordings would you nominate as the most important of the decade? We're discussing albums primarily, though singles are certainly welcome as well. As with the other lists, we're not asking for the "best" per se, and we're leaving it open with regards to what constitutes "importance," but humor us and play along. We've started the ball rolling with a few personal picks, but the list needs your participation too.
All we ask is that you only list one item per post, then let others have a turn, since we want this list to form communally, not simply to be a collection of everyone else's lists. Also, be sure to say why it's important.
Death Cab For Cutie Narrow Stairs (Andrew Bottomley): If you were to ask me to name the "best" albums of the 2000s, Death Cab probably wouldn't feature anywhere in the Top 100, or at least certainly not with this 2008 effort. But this album is significant for entirely different reasons, namely that it debuted at #1 on the Billboard charts, the highest chart position reached by an "indie rock" band during the aughties (besting The Shins, who entered the charts at #2 with Wincing the Night Away a year earlier). The fact that indie rock music even reached the Billboard 200, yet alone outsold the likes of Neil Diamond and Frank Sinatra, is what I find remarkable, and it is representative of the rise of "indie" both as a genre and as an aesthetic over the past decade. Now, indie has always been a vague and contestable term, and one that I'm not about to debate here. But what the popular culture loosely regards as "indie" music became increasingly pervasive throughout the 2000s, soundtracking everything from cell phone commercials (lots and lots of commercials) to primetime dramas to major Hollywood motion pictures to shopping malls (I recently heard Animal Collective's "My Girls" in a Timberland outlet store of all places). Indeed, indie became a sensibility denoting anything that was young and hip yet quirky and sincere, and indie rock by the likes of Death Cab was used to underscore it, moving from the subculture to seemingly everywhere.
Amit Trivedi Dev.D (Sreya Mitra): Ask any Hindi film connoisseur about the best/most important film soundtrack of the decade and it would invariably be a A.R. Rahman album. After all, not only is the man extremely prolific, but also somewhat of a musical genius. It's hard to ignore the "Mozart of Madras," but my two cents would be for Dev.D, a rather psychedelic take on Devdas, a 1917 Bengali novella that has seen nearly ten cinematic adaptations. Though the film was lauded by the critics, for me one of the most interesting aspects is its soundtrack. The film has 18 tracks (yes, 18!) but they aren't in the mold of the run-of-the-mill Hindi film song and dance sequences (in fact, there are hardly any "dance sequences" in the film). Rather, the songs function more as a score, often interpresed and interrupted by dialogues and narrative events; the songs of Dev.D do not offer the "break" or respite from the narrative trajectory that is often associated with the generic Hindi film song. Music director Amit Trivedi (this was Trivedi's second feature) offers an eclectic mix that fuses Indian classical and folk with rock and western beats. While the brass band version of "Emosanal Atyachar" ("Emotional Torture") offers Elvis wannabes and a north Indian wedding band, its rock version brings out the angst of the film's coke-snorting alcoholic protagonist. Then there are the folksy "O Pardesi," "Payaliya," "Dhol Yaar Dhol," "Mahi Mennu," and the more fusion tracks like "Nayan Tarse," "Saali Khushi." What makes Dev.D more interesting is that it simply doesn't eschew the generic convention of making its protagonists "sing" the songs, but rather the songs add and enhance not only the narrative but also the characters – while Paro has the folksy numbers and Dev the angst-ridden tracks, Chanda's story is in the songs, "Yahi Meri Zindagi," "Aankh Micholi," and "Dil Mein Jaagi." For Bollywood, Dev.D is certainly a "hatke" (different) soundtrack.
Kanye West The College Dropout (Nick Marx):  Forgive my bombast, but methinks the subject matter warrants it:  Kanye West is 2000s hip-hop.  I'm not sure what that means, but, goddamn, it sounds right.  Yes yes, most of us first met Kanye on Jay-Z's 2001 The Blueprint, a fine and important album in its own right.  But whereas Jay-Z tends to fixate on the past and how his legacy stacks up to his predecessors, Kanye's gaze is focused on the here and now, in all of its indulgent, vainglorious glory.  It's tough to think of another musician in the aughts who courted both commercial success and critical acclaim as aggressively (and successfully) as Kanye did.  Or one as inextricably linked to so many zeitgeist-y moments.  Or one as instantly recognized and respected by everyone from hipsters to the khaki khrowd, from rappers to rockers, from club DJs to wedding DJs to those DJ machines that excrete top 40 playlists and inane chatter (at 7:43).
Danger Mouse The Grey Album (Josh David Jackson): Let's go with Danger Mouse's marriage of The Beatles and Jay-Z in his The Grey Album (2004), which received glowing reviews from dozens of newspapers and magazines (including The New Yorker, Entertainment Weekly, Rolling Stone, NME, and Spin) while at the same time being totally copyright illegal.  Chased out of independent Los Angeles record stores and onto the web by rights-holder EMI, The Grey Album quickly became a cause célèbre for the information-wants-to-be-free folks, who used it as an opportunity to organize a little civil disobedience (most notably Downhill Battle's Grey Tuesday, which purportedly resulted in 100,000 additional album downloads over the course of the day) with little legal repercussions (a few perfunctory cease-and-desist letters). Virtuosic, brazen in a you-got-your-peanut-butter-in-my-chocolate sort of way, and generally pretty damn listenable, The Grey Album put the word "mash-up" on the lips of the general public, got people talking about fair use, and inspired dozens of imitations of variable quality from bedroom producers and aspiring pros.