For the Love of Glee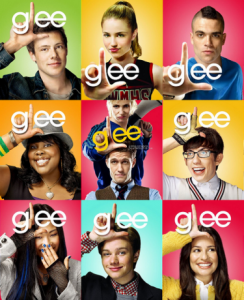 Regardless of whether you are a Gleek (if you don't know this term, read on), you may have noticed the buzz surrounding FOX's musical comedy, which returned Tuesday to the second-best ratings of the night after a "Gleek Week" of promotional appearances and news coverage.  Created by Ian Brennan, Brad Falchuk, and Ryan Murphy, Glee focuses on a diverse group of teenagers participating in a high school show choir, treating the participants in "New Directions" with alternating doses of warmth and snark.  It also is one of the first series in the last few decades to successfully incorporate musical numbers; its music has become a lucrative cross-promotional element of the Glee phenomenon.
The series has garnered ardent fans, or Gleeks, around the world — evident in the many websites dedicated to it, such as Gleeks United, Glee Club Online, Forum Français de Glee, Glee Brazil, and my favorite, What Would Emma Pillsbury Wear?, inspired by the fashions worn by the eponymous guidance counselor with a penchant for all things sterile and for sexy-librarian sweaters. Just as notable, it appears to have been embraced as particularly American. The cast was invited by First Lady Michelle Obama to sing at the White House's annual Easter egg roll last weekend, and they followed that up with a Glee-themed episode of The Oprah Winfrey Show (she praised them as the "hardest working cast on television").  News coverage on the return of Glee and spoilers have followed in most major news outlets—including two dueling reviews in The New York Times—and in scholarly forums (a shout out to In Media Res, which recently hosted a Glee-themed week).
What is it about Glee that has inspired this phenomenon?   Based on my own experience, as a Gleek and as a scholar focusing on the series in my research, I find the show's play with diversity equally satisfying and frustrating, and always compelling (arguably, it is "post-racial" and reinforcing of traditional racial stereotypes). And it seems that for many fans, the show's focus on underdogs overcoming challenge, sly satire, and feel-good musical numbers are clear pulls.  With respect to these and other appeals, Glee is a prime illustration of what Valerie Wee has described as hyper-postmodern media culture. A mash-up of generic influences, intertextual references, music, and ideological content that is both eerily nostalgic and forward-thinking, the series can be read and enjoyed by fans in multiple and diverging ways.
This week's episode, "Hell-o," provided a full helping of these and other pleasures.  We witnessed cheerleading coach Sue Sylvester (Jane Lynch)'s return to the high school and renewed mission of obliterating the glee club and the long-awaited blossoming of two romantic relationships, Mr. Shuester and Emma and Rachel and Finn, although difficulties naturally arise for both couples. In these and other entanglements as New Directions looks toward regionals, the timing and humor are spot on, not the least of which was the limiting of the musical numbers to songs with the word "hell" in the title. The hilarious mix that ensues includes "Hello, I Love You," "Highway to Hell," and "Hello, Goodbye."
And the narrative may not be important as the sum of Glee's parts; they include the hyper-postmodern mash-up described above, exciting and talented performers, upbeat music that can be enjoyed in other arenas, sweetly geeky fandom, and the overall ethos of embracing the loveable loser in all of us.
Are you a Gleek, and if so, what do you think encourages its appeal?  What do you make of the series as a contemporary television, music, or theatrical text? In response to this complicated series we plan to follow Glee, its paratexts, and its fandom on a weekly basis as it continues to air this season.  We hope you'll take part in the discussion.