Summer Media: Castle
This post is the first in a new column titled Summer Media that Antenna will be running throughout June, July, and August. The dog days of summer are often viewed as a period of stagnation or inactivity for media – people are presumably outdoors and on vacation, not inside watching primetime TV, shopping for DVDs and CDs, or playing games. And yet, the summer season is in many ways defined by media: blockbuster movies, music festivals, theme parks, major sporting events, and so on. The first of the two aims of this column is to highlight some of the new media happening this summer, especially that might which our contributors consider overlooked or under-appreciated for whatever reason. Secondly, for many of us, the summer is when we catch-up on older media that we previously missed. Remember when you were in high school and you were sent home with a summer reading list full of gems like Jane Eyre, Wuthering Heights and The Great Gatsby – the great literature you might not have been able to get around to during the school year?  Well, the Antenna editors thought it would be fun to put together a summer reading/watching/listening/playing list, full of awesome media you might have otherwise missed.
To that end, in the coming weeks you'll be treated to posts on current and past TV series, films, games, music, websites… whatever… that we love and don't want you to overlook.  We consider it a public service – nudging you to check out these media treasures in the same way your high school English teachers nudged you to read the classics on your summer break.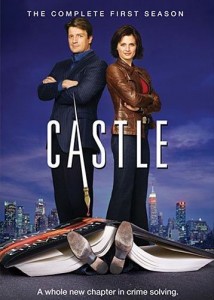 I'm kicking off our Summer Media series with an exhortation to sample the fantastic Castle.  The ABC dramedy procedural stars Nathan Fillion as bestselling thriller author Rick Castle–a twice-married (twice-divorced) New York City playboy with a heart (and a brain, actually).  Castle (much like Fillion) is charming, amusing, clever and boyishly goofy.  In the pilot, Castle has a run-in with steely NYPD detective Kate Beckett (played by Stana Katic) when she's investigating a murder based on a scene from one of Castle's books.  Castle, who has just killed off the lead character of his most successful series, finds Beckett irresistible and decides to create a new series based on her.  He pulls strings with his bigwig friends (mayor, chief of police, etc.) and Beckett discovers that she is now required to allow Castle to follow her around.  Adding to the odd-couple pairing at the center of the show are other truly delightful characters, including Beckett's team and Castle's eccentric actress mother and precocious teenage daughter.
That's the plot summary, but no summary can capture the charm that is Castle.  The series is a procedural through and through, but that doesn't keep it from being interesting.  The cases are always a little bit weird, and the magic is in Beckett discovering that she actually needs Castle's ability to think outside the box (he's always wondering how the story should end) to solve them.  And, of course, there's romantic tension between Castle & Beckett, another element that might land the series firmly in cookie-cutter territory in some audience members' minds.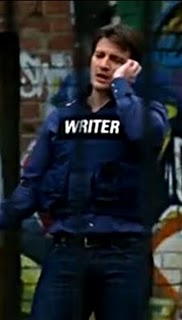 But Castle is much more than a will-they-won't-they procedural, and for me, the real delight is in being reminded of the TV mysteries of my youth.  Castle is reminiscent of Remington Steele, Scarecrow & Mrs. King, and all of the other quirky odd-couple crime-solving series of the 1980s.  This is not surprising, as famed writer and TV producer Stephen J. Cannell (A-Team, Greatest American Hero, Hunter)  is one of the producers of Castle, as well, and he brings his particular sensibility to bear on the series.  The result is a show that feels like a familiar favorite, but with an updated edge.  There's nothing particularly revelatory about Castle, but if you ask me, therein lies its charm.  It's a series that will make you laugh, keep you interested, and draw you into the world of the characters.  It's fun, it's easy, it's light, and so far, it's never failed to make me finish an episode saying, "I just love that show!" in eager anticipation of the next installment.  To my mind, achieving that kind of response is possibly the pinnacle of perfection in a TV series.
If you haven't already, be sure to check it out this summer.  You can catch up on the first (short, as it was a midseason replacement) season on DVD, and see the last few episodes of season two (and lots of fun behind-the-scenes footage) on Hulu.
It may not be the Jane Eyre or Wuthering Heights of television, but Castle is definitely a charming and delightful romp.