Vampire Shows and Gendered Quality Television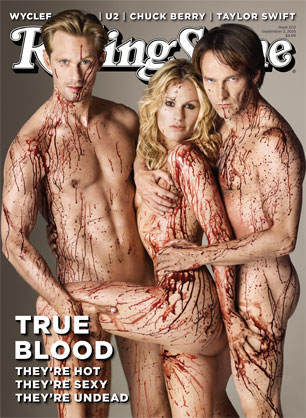 The forthcoming Flow conference contains a panel on quality TV which begins with the following question: "What makes True Blood 'quality' while The Vampire Diaries go unnoticed?" As someone who watches both shows yet finds The Vampire Diaries much more engaging and interesting, I am fascinated by this question–or rather, the facts underlying it. Both shows are based on extremely popular books; both are set in the South (yet fail to properly address the implications of having former Confederate soldiers as main characters as Vampire Politics and In the Shadow of a Metaphor interestingly argue); both center around a love triangle with the human female pursued by two male vampires. The last, indeed, connects the shows emotionally for me to Buffy rather than Twilight: Angel/Buffy/Spike was my first fannish love, and I see similar dynamics and characterizations in both Bill/Sookie/Eric and Stefan/Elena/Damon (with added familial connections between the vamps in two of the three cases). Where Angel, Bill, and Stefan are guilt-ridden and resent their vampire existence to large degrees, Spike, Eric, and Damon are so appealing to many fans because they represent moral ambiguity writ large and end up becoming humanized almost against their will. Plus, they seem to have a lot more fun!
So far, the similarities are striking, and one would expect continuous comparison between the two, and yet their genre, pedigree, and network associations make these shows seem as far apart as The Wire and Gossip Girl. Oddly enough, I gave True Blood (TB) a second chance when Jason Mittell and Louisa Stein praised its politics and narrative complexity during a Flow conference Wire panel two years ago. In contrast, I tried The Vampire Diaries (TVD) again after my online fan friends praised its strong female characters and intricate plotting. Both shows contain complex plots with often unexpected surprises and fast turnarounds. TB follows a variety of plot and character lines to create an expansive set of stories while TVD remains more singularly focused and thus tremendously fast paced. Both shows take more than a couple of sentences to retell a single episode, with ambiguous characters and repeated betrayal as constants.
And yet one is quality TV on HBO, watched by men and women alike, and names such as Alan Ball and Anna Paquin all but guarantee that it be taken seriously as an artistic engagement–even if we may just watch it for the bloodied sexual encounters and the melodrama. The other is firmly defined as teen TV, runs on the CW and its stars are more likely to appear on the cover of the online Portrait magazine than Rolling Stone. Part of this difference in perception between the two programs is clearly gendered: TB's extreme sexual violence and voyeuristic viewer position invites male viewers even where the initial topic of a female protagonist and her vampire lover might not. Moreover, the amazingly artistic and political trailer promises a depth that I personally feel the show fails to deliver. TVD, on the other hand, is clearly geared toward young girls with its high school protagonist and two male hunks who desire her. The high school setting and teen tropes mark the show as a typical CW show, with its melodramatic aspects foregrounded rather than hidden. Likewise this allows for viewers' identificatory potential in a way that TB doesn't: TB instead establishes a more distanced view position that profits from its visual spectacle.
Part of me wants to like TVD simply because it seems more honest in its range, goals, and intended audiences. But I can't fault a show for its paratexts nor for its reception. So why do I ultimately enjoy and prefer the teen show over its more sexy, adult, quality counterpart. I don't particularly like Elena better than Sookie (faux Southern accent notwithstanding) nor do I find Somerhalder that much more attractive than Skarsgård. Plots in both are a fast and crazy ride, and while the production values are clearly better in the HBO show, both are sufficiently glossy and visually enjoyable. I do find sexual and racial politics more problematic in TB, but my reasons for liking TVD are actually about themes and characters: I enjoy the teen characters as a way to explore coming of age and adulthood anxieties via supernatural metaphors, and I like the way I can identify with the characters rather than merely observing them on their wild rides. Television certainly doesn't need to be edifying, but I more often feel like I want to explore the moral dilemmas and interpersonal conflicts in TVD. If I were to pick a worthy successor of Buffy's Sunnydale, it would be Mystic Falls rather than Bon Temps.