Mediating the Past: The Future of Media History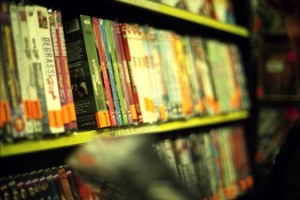 **This post is part of our series, Mediating the Past, which focuses on how the past is produced, constructed, distributed, branded and received through various media.
I had an epiphany at Half Price Books one day last spring. They had placed hundreds of DVDs (including many TV box sets) into special clearance racks, priced at $3 each. These weren't the usual bargain-bin titles, but mostly major releases of the past several years. While they still have several shelves devoted to DVD and Blu-Ray, this was a significant clearing-out of media with apparently little perceived value. It dawned on me at that moment that if the looming end of the DVD was hitting used book stores, than it was time to prepare for it.
We live in an era of incredible access to media, and an increasingly impressive array of digital tools with which to curate and analyze them. That much is certain. However, we're also living through an era of media extinction, as physical media forms disappear to the proverbial "cloud." A four-decade boom in accessible and convenient physical audiovisual media (from the audio and video cassette to the Blu-Ray disc) is clearly ending. Media distributors are more concerned about lining up digital license agreements than securing physical shelf space. Media hardware manufacturers emphasize internet connectivity and streaming apps rather than optical disc drives. Moreover, the newest generation of laptops and even desktop computers do not even have optical drives.
As physical media, and the ability to play it, disappears, we're told to look to the clouds. The impermanence of the metaphor, as I look out on a cloudless sky, is telling. As longstanding battles over online content distribution have indicated, the content of the cloud will always be contingent. The phrase "on demand" associated with the cloud is best understood as "only what's available today, under these specific terms, which will probably be different tomorrow." This uncertainty applies to every ostensibly physical media form we might use, as books and periodicals become e-books, microfilm becomes PDFs, and film and television become streaming videos, and all become locked up  in "the cloud." Moreover, it applies equally to media consumers at all levels, including academic research libraries.
Thus, this Age of Digital Plenty is at best an exaggeration, and at worst bullshit. Unless you have a hard copy (or an external hard disk) on your shelf, and the necessary hardware and/or software to use it, you're at the mercy of the clouds. Even the illicit corners of the Internet may not save you (lest we forget what happened to Megaupload).
This shift from atoms to bits corresponds with and exacerbates a more existential challenge: what is history for? More precisely, what is media history for? While this has always been the key question at the heart of every investigation of the past, it has rapidly become even more pressing. Mediated traces of the past keep piling up faster and faster, yet our attitudes towards them reveal a growing separation between instrumental and historical uses. On the one hand, the now-classic postmodern value of remixing and repurposing bits of the past has certainly been a liberating, and at times, provocative practice. However, it has coincided with a retreating cultural interest in the contexts of the past, as "history" is understood more as arrays of "cool stuff" and "cool stories" than as narratives of the present. Our pasts are either mythologized (cf Mad Men, or the retromania critiqued by Simon Reynolds), or deliberately ignored (all the "boring stuff" nobody has yet posted on tumblr). An ongoing debate in television blogging and criticism of late has even seriously questioned whether pre-1990 (or more commonly, pre-Sopranos) television has any aesthetic value, as if it were the primordial muck from which today's "serious and ambitious" television emerged.
As curators of the media past, we not only need to critically engage with these historiographical ideologies and methods in these times of shifting temporality and materiality; we also need to politically intervene on the past's behalf, protecting physical media, whether on print, microfilm, film, vinyl, tape, optical disc, digital code, or any other form. While it is essential to also work to convert and maintain online access to digital versions of these media (yes, in the cloud), we can't assume that offline resources will always be there. Sometime within the next decade, there won't be any more DVD shelves at Half Price Books.