What Are You Missing? Dec 9-23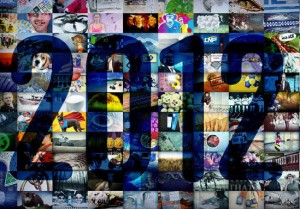 A significant percentage of the media news this fortnight was in summary form, as media industry sites looked back on 2012.
1. Moviefone's Drew Taylor highlights ten good films you likely didn't see in 2012, while Indiewire critics pick the ten best films you definitely didn't see, because they went undistributed. Indiewire also warns you about the films you shouldn't see, plus the site offers an A-Z summary of women in film in 2012 and an assessment of LGBT representation in American films of the year.
2. 2012 is looking like a best-ever year for Hollywood box office grosses, both domestically and internationally. Among the studios, Universal did have its best year ever. And among individual films, The Avengers easily takes the 2012 box office crown, while Zero Dark Thirty is heading toward the critics' poll crown, followed by The Master.
3. The Economist Group has a slew of revealing digital publishing charts that look back on 2012, and while 2012 was a tough year for newspapers, some, like The New York Times and Wall Street Journal, are at least still profitable, while the Washington Post's multiplatform model may be one to keep an eye on in 2013. Newsweek's shift to online-only status (ending not with a whimper but a hashtag) marked 2012 as a digital year for magazines, and most recently, Spin and the 126-year-old Sporting News announced they'll only be available online in 2013.
4. Fifty Shades of Grey cleaned up in 2012 print book sales, and Amazon's rankings show that Gone Girl put up a good fight too. The e-reader market shrunk noticeably this year, with tablet sales rising correspondingly. Apparently indie bookstores are still doing ok through all of this.
5. Billboard looks back on the year in music, one it calls tumultuous. According to iTunes downloads, it was a good year for Adele and Carly Rae Jepsen, while Britney Spears out-earned all other women in music.
6. VentureBeat has a series of bleak charts detailing 2012 video game sales. In brighter news, Mass Effect 3 and Call of Duty: Black Ops II sold well, while the game that people spent the most individual time playing was Borderlands 2. Back to bad news, Call of Duty is under scrutiny for the amount of time Newtown shooter Adam Lanza spent playing it.
7. YouTube had a big year, from news to ads to lip-sync vids to Gangnam Style. Looking ahead, we should keep an eye on Maker Studios, channel renewals, and Iran's YouTube. Plus, as always in internet video, porn.
8. Google's annual report on searching reveals the trends borne across 1.2 trillion searches in 2012. We also visited Google a lot in 2012 simply for the awesome doodles. Using all search engines, we apparently sought out Facebook the most (haven't most of us found it already?). We also sought out a lot of GIFs.
9. Once we figured out where Facebook was, we talked about the presidential election and Duck Dynasty a lot there. Even dead people found things to like on Facebook. Over at Twitter, its year in review offers a personal perspective, and over 200 million users are now laying the groundwork for 2013's results.
10. News for TV Majors has its own Best of 2012 critics' lists post, and here are some other informative posts from the past two weeks: Value of Older Demos, Mazzara Leaving Walking Dead, Hulu's Direction, Nielsen Twitter TV Rating, ABC Making C7 Deals, TWC Dropping Ovation, Nielsen Buys Arbitron,  Newtown Impact, Media Violence, Newtown Analysis, Amazon Gets TNT Shows, Golden Globe Noms, Top Rated & Buzzed Shows, Regional Sports Surcharge, Ownership Vote Delayed.