The Comics Arms Race and the Failure of Diversity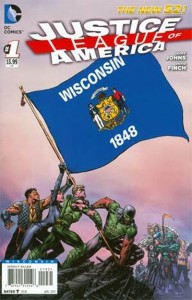 Nearly two years after I detailed DC Comics' "New 52" relaunch for Antenna, I thought I'd take another look at the state of American comics publishing. Despite competition from Image and IDW, American comics remain largely a two-publisher game, with DC and Marvel accounting for approximately 70% of all comics sales. Overall, monthly comic sales in February 2013 were up nearly 15% from a year ago, and up 35% from two years ago. This spike is due primarily to the relaunches of the two major publishers–the "New 52" and "Marvel Now." The shuffling of creative teams, renumbering of books, and in DC's case, the "rebooting" of the narrative universe, have generated considerable reader interest. At the same time, both publishers employ a number of strategies to mitigate the inevitable attrition that occurs with monthly comics.
Retailer incentives like variant covers are nothing new, but are being emphasized strongly in today's market. Variant covers are provided to retailers based on the number of issues ordered. For instance, a retailer ordering 50 copies of Fantastic Four #1 received one issue with an alternate cover by Dave Johnson; while 100 copies gets you a Joe Quesada cover, etc. To receive these rare variants, a retailer often must order more books than he or she can reasonably sell. The retailer still comes out ahead by selling each variant at an inflated price that exceeds the cost of the books that don't sell. Publishers also encourage excessive ordering by offering extra volume-based discounts for less popular books. DC gave retailers an extra 15% discount if their orders of Katana (a relatively obscure character) were 75% of their orders for Justice League of America (a bestseller).
The effect of these incentives is the artificial inflation of comic sales beyond the number of people who are actually interested in reading the books. On a much larger scale, this kind of speculation led to the near-collapse of the industry in the mid-nineties. Today, it's possible that some readers may be turned off by the shamelessness of the variant gimmick, and recently, retailer Brian Hibbs attacked variant covers as an unethical manipulation of the market by the Big Two. Yet the practice remains lucrative; February saw the numbers of Justice League of America #1 boosted by as much as 300% by the offering of one variant cover for each state of the U.S.A. (see picture)
In terms of content, DC has pursued more of a "long tail" approach than Marvel. As I discussed in my previous post, one of the features of the New 52 was its variety–in terms of genre, and also the gender and ethnicity of its superheroes. This diversity helps to attract readers beyond the traditional white male superhero fan, and could also serve as R&D for film and television adaptations. (Marvel's upcoming Guardians of the Galaxy film foregrounds the potential value of obscure characters.)
Marvel, in comparison, tends to stick to its most popular properties, yoking most books to a franchise such as the Avengers or X-Men. While lesser-known characters are often given their own title at DC, they are typically subsumed into an Avengers team book at Marvel, where they are afforded the support of the Avengers brand. Last month, 22 of the top 100 bestselling books had "Avengers" or "X" in the title. Also, Marvel "double-ships" its core titles, publishing books like Avengers and Spider-Man between 18-24 times a year rather than monthly. In May, Marvel solicited 48 ongoing titles to DC's 52, but fourteen of Marvel's titles ship twice that month, bringing its total number of ongoing issues in May to 62. Marvel also prices most of its books at $3.99 each, while nearly all of DC's books are a dollar less.
While the diversity of DC's offerings might be admirable from a creative and cultural standpoint, from a sales perspective it has led to a considerably weaker publishing slate than Marvel's. The more offbeat genres and characters that make up DC's long tail have almost without exception sold poorly, and most have already been canceled (some after only seven or eight issues). Of DC's ongoing titles, 23 sold fewer than 20,000 copies last month; Marvel had only eight titles that sold that poorly. Marvel also currently holds fourteen of the top 25 sales slots, to DC's nine. Marvel's double-shipping and $3.99 price point allow it to surpass DC in both unit and dollar shares, despite the sales boost provided by DC's relaunch.
DC has traditionally trailed Marvel on the sales charts, but it has remained highly competitive based on the success of short-term promotions (renumbering, "zero month") and high-profile limited series like Before Watchmen and the upcoming Before Sandman. Yet already their gimmicks have become more desperate–every issue in April will contain a gatefold cover that unfolds to reveal a surprise plot point, a promotion DC has labeled "WTF month", to the derision of online fans. To better compete with Marvel, I suspect DC will continue to pare back its long tail, increase the number of $3.99 books it releases, focus on its core franchises, and perhaps also begin to double-ship certain popular books. This will surely lead to increased homogeneity on comics stands; however, this in turn might encourage readers to check out the more diverse offerings of independent publishers.