What Are You Missing? April 14-April 27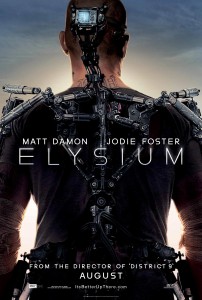 A few news stories you may have missed these last two weeks…
1) Neill Blomkamp's Elysium will become the first Sony film mixed both for Dolby Atmos and for Barco's rival Auro 11.1 format. Meanwhile, the British theater chain Vue said it is currently "testing" Atmos in its select Xtreme auditoriums, while Barco signed a 15-picture deal with DreamWorks Animation. The two companies are hoping that their products will coexist in theaters so as to avoid an all-out format war.
2) DreamWorks also announced a potentially controversial coproduction with its Shanghai based Oriental DreamWorks and the state-owned China Film Group to adapt the popular Tibet Code adventure novels for the big screen. Jeffrey Katzenberg, however, denies any political motivation behind the project. The Indiana Jones-esque films will begin production after King Fu Panda 3.
3) Quentin Tarrantino's Django Unchained will get another chance at the Chinese box office after officials pulled the film from theaters within minutes of its initial release on April 11th. The film will re-open on May 12 with several sexual and violent images likely removed.
4) In streaming news, Amazon.com announced it will soon release a set-top box to compete with Roku and AppleTV. Netflix is adding the option for a single account to stream up to four videos at once.  The current limit is two simultaneous streams. Netflix also unveiled nine new posters for their upcoming season of Arrested Development.
5) NBC renews five of its dramas for next season, including Revolution and Grimm. Meanwhile once-popular shows like The Office and Fox's American Idol hit all-time ratings lows this past week.
6) In cable news, CNN is in talks to add Stephanie Cutter and Newt Gingrich to its reboot of the network's once-popular Crossfire debate show. CNN also topped Fox and MSNBC in the 25-54 demo during the Watertown manhunt on Friday.  However, Fox bested all of cable programming in total viewership during the week of the Boston bombing, edging out USA 2.87M to 2.62M.  CNN placed third with 1.99M and MSNBC placed 19th with only 923k.
7) Reddit general Manager Erik Martin admitted he deeply regrets how some of the Boston marathon discussions on his site "fueled online witch hunts and dangerous speculation which spiraled into very negative consequences for innocent parties." Some media outlets have been critical of the way the website was handling the ongoing investigation, though others were more defensive of Reddit's involvement.
8) In twitter news, the AP's twitter feed was hacked with claims of two explosions at the White House, causing the Dow to see momentary drop of about 130 points. The Onion's twitter feed responded in form, and has had more than 1,000 re-tweets since its posting. None of this seemed to deter Former President Clinton from officially joining the social media site, nor from making the announcement on The Colbert Report.
9) Disney's slated film adaptation of Stephen Sonheim's Into the Woods is inching toward including Meryl Streep and Johnny Depp as leads. The company's theme parks in Florida and California will also stay open for 24 hours on Friday, May 24th in order to offer visitors an all-nighter to celebrate the beginning of summer.
10) iTunes celebrates its 10-year anniversary, and though some journalists called the online music store an "instant revolution," analysts suggest it is now losing significant market share to streaming services like Spotify.