AT&T's Branded Entertainment, Present and Past
AT&T's teen reality program, @summerbreak, is back for a second season. It's not on TV and if you're not subscribing to its Twitter, Tumblr, Instagram, or YouTube feeds, or if you're not already following key social media "influencers" who are "seeding"  material about the summer adventures of a group of Southern Californian teens, you may not have heard of it. AT&T is not concerned about audience members who are over the age of 25. Teens are the targeted audience; why "waste" program exposure on older audiences?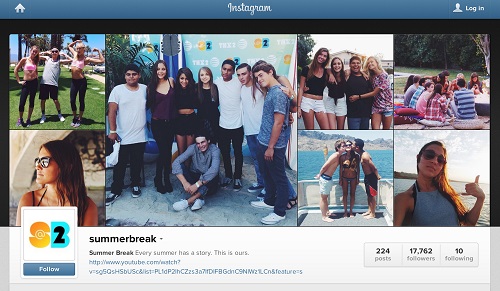 Rather than interrupt the program with commercials extolling AT&T's mobile phone services, @summerbreak simply integrates mobile phone usage into its scenes. The teen performers talk, text, photograph, and take selfies. They use video, Instagram, Twitter, Tumblr, Snapchat, and so on. Not only do they model ideal device usage, they also comment on each other's usage: "You're such a social media diva!" exclaims one teen to another who is tweeting their shopping expedition.
All this stands in stark contrast to AT&T's past branded entertainment programs. From 1940 to 1958 on
radio
, from 1959 to 1968 on television,
The Bell Telephone Hour
offered classical music and musical theater performances. AT&T's film
Rehearsal
(ca. 1947) simulates the program's rehearsal process for a live radio performance of excerpts from operas such as
Don Giovanni
by the Bell Telephone Orchestra and guest singers
.
As the conductor stops and instructs the orchestra and the director in the control booth prompts the announcers, the film shows the hard work that goes into successful performances of highbrow culture.
However, despite the radical differences in style, content, and substance in AT&T's branded entertainment past and present,
@summerbreak
and
The Bell Telephone Hour
share some goals.
In the past, advertisers assumed that media like radio had direct and powerful effects. They used radio to educate consumers either about products or about a corporation itself, assuming a powerful tool like radio should be used for the public good. In sponsoring programs of classical music, opera, and legitimate theater (instead of popular music, say), some radio advertisers hoped to instill gratitude in audiences and to polish an image of themselves as models of good taste, beneficent patrons, and technological innovators.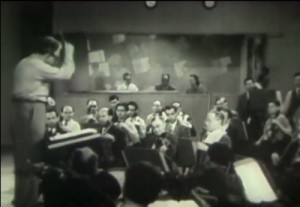 In the middle of the Rehearsal (at about 15:50) an announcer explains how AT&T has improved on long distance communication through a short history, beginning with bonfires on hilltops, proceeding to audion tubes and radio relays, and culminating in a couple's earnest long distance phone call. Cultural uplift and technological progress dovetail so beautifully we may forget about the corporation's monopoly profits.
Today, advertisers like AT&T have come to doubt the power of a direct pitch; they believe instead in associational messages and images. AT&T, no longer a paternalistic monopolist, is now only one of many companies competing in emerging media, and its success with youth markets will most likely shape its future. Brands like AT&T no longer use advertising as a business form of "education," which might alienate their teenage audience. Instead, they seek to integrate their brand messages smoothly and subtly into youth culture.
Nonetheless, @summerbreak arguably retains the overall educational goal of The Bell Telephone Hour: by featuring attractive Southern Californian teens modeling mobile service usage, the program implicitly educates viewers on current cool teen behaviors, lingos, and social media trends. And it retains the goal of association with aspirational culture—not highbrow music but cool teen behavior. AT&T hopes its teen audience feels validated by the representations of cool teens doing cool things with their phones. By reminding teens that AT&T knows teens are cool, AT&T can hope teens will reciprocate the validation and believe AT&T is cool too.