ESPN and EA Sports' NHL Season Simulation
The National Hockey League is currently rounding out the sixth week of a lockout—the league's third labor stoppage since 1994.  These disputes, of course, are not unusual in contemporary sports.  Just a couple of months ago the National Football League locked out its referees and briefly shifted to replacements, whose borderline-comic insufficiencies wound up moving labor negotiations along with unexpected celerity. The NHL lockout, however, comes at a particularly inopportune time for America's fourth most popular professional sports league, which seemed to be gaining popularity with the continued success of the Winter Classic (which has been called off this year), the HBO reality series 24/7: Road to the Winter Classic, the 2007 launch of the NHL Network, and the distribution and promotion that broadcast partner NBC provides via both its primary network and the NBC Sports Network.  Critics have understandably speculated about the degree to which the work stoppage will alienate the fans that the NHL and its partners have aggressively, and creatively, cultivated over the course of the last decade.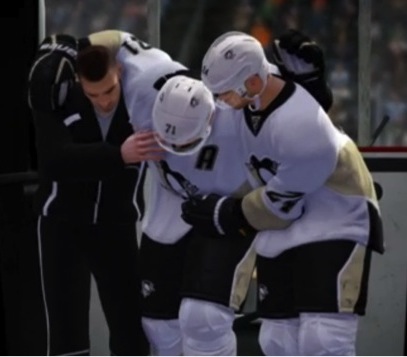 While the lockout prohibits NHL players from lacing up for their teams (though many of its biggest stars are spending the stoppage participating in international leagues like Russia's KHL), it has not prevented video game behemoth EA Sports from promoting its annual National Hockey League game.  NHL 13 is now the only game officially licensed by the NHL and the NHL Players Association—the factions currently warring over how the league's revenues (including those generated from video game sales) will be divvied up.  Beginning the same week the NHL was scheduled to start is 2012-2013 season, EA Sports developed a weekly series of simulations hosted and promoted by ESPN.com that reflect on how the season might have transpired.  Featuring prominently ESPN's brand and adopting a style similar to the media outlet's highlight programs, the simulations combine slow motion replays with upbeat voiceover narrations and driving scores to showcase the imagined weeks' most important and enthralling moments—power play goals, great saves, and so forth.  The simulations also praise the week's top performances and include box scores for each game, headlines of league news, and even injury reports.  While the real Pittsburgh Penguins center Evgeni Malkin is currently playing for the KHL's Metallurg Magnitogorsk, his simulated version will be sitting out for 3-4 months with a sprained MCL.  Penguins fans, it seems, can't catch an actual or virtual break.
The EA Sports simulations are not new.  EA simulated the 2011 and 2012 Stanley Cups and ESPN.com currently hosts weekly Madden NFL 13 simulations of the National Football League's games.  These productions grow out of a partnership between EA Sports and ESPN that started in 2005, when EA paid the "Worldwide Leader" $850 million for 15 years of advertising and the exclusive right to use its brand in games.  Since the deal was struck, these two titans of sports media have worked in concert to build each other's images and increase their already expansive market share, demographic reach, and presence across multiple platforms.  "When you think about brands that should be together and work together," said current ESPN president John Skipper shortly after the deal was struck, "I think EA represents in video games what ESPN represents in broadcasting and media assets."  EA and ESPN typically frame the simulations as showcases of EA Sports games' sophisticated capacity to provide information reliable enough to help fans set their fantasy rosters or place actual bets.  "Before you fill out your pick 'em pool or make that final fantasy lineup adjustment," notes ESPN.com, "the Madden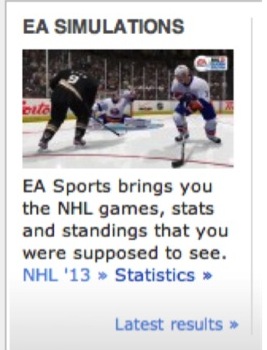 engine can provide that last bit of insight."  Along different lines, EA and ESPN have used the NHL labor stoppage as an opportunity to market their simulations as outgrowths of the fan-centered populism on which each brand trades: "EA Sports brings you the NHL games, stats and standings that you were supposed to see."  The simulations, they suggest, are gifts designed to tide over hockey-hungry fans that deserve better from the sports they cherish.
Corporate altruism notwithstanding, the NHL simulations indicate that while the content of EA Sports' games rely primarily on the organizations they pay handsomely for the license to depict, they use ESPN to build, celebrate, and circulate those games' meaning and value.  Beyond hosting the simulations, ESPN.com incessantly plugs their authenticity and only briefly, if at all, mentions games that are competing with EA Sports' titles.  Moreover, ESPN typically situates its promotion of EA Sports' products and developments as reportage.  In doing so, it suggests that EA products are the only sports games on the market worth note—an attitude that, given ESPN's enormous reach, dissuades potential competitors from trying to chip away at EA Sports' market share.
The simulations also illuminate the conspicuously thin line between ESPN's coverage and its promotional activities and obligations.  When the NHL simulations first appeared in early October, a few frustrated commentators cynically huffed that ESPN is now providing the NHL with more coverage than it did when the league was actually in operation.  Indeed, ESPN has greater incentive to cover the simulations—which feature its client EA Sports along with its own brand—than it does to provide the actual NHL, an organization it has not possessed the rights to cover since 2004, with anything more than brief and relatively sporadic acknowledgement.  Though the simulations are relatively unimportant novelties within the ever-expanding universe ESPN has constructed, they usefully—though somewhat dismayingly—suggest the media outlet's business partnerships supersede its publicized commitment to report on the sports world.
While the simulations showcase a virtual NHL season, they are remarkably actual advertisements.  EA Sports and ESPN's combined efforts to expand sports media's technological and interactive possibilities simultaneously work to restrict the branded horizons within which this potential can emerge.