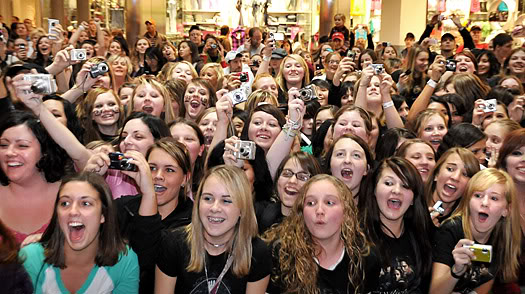 As every talk show, morning show, and magazine has informed us (ad nauseam?), the second installment of the Twilight Saga, New Moon, premieres tonight. With it not only comes the appearances, interviews, and other promotional efforts of the stars, but also the images of Twilight fans. Variety's coverage of New Moon's Hollywood premiere was as much about teen girls as it was about the film, with a sub-head that read "screaming teens swarm New Moon preem," and a lead paragraph about "how much louder teen girls can scream with a year of anticipation."
In reading about/watching the coverage of the New Moon premiere, I find myself increasingly conflicted. On the one hand, it's encouraging to see young girls and women recognized as an audience and a significant economic force. Advance ticket sales are breaking records at sites like Fandango, and reports of these sales are quick to point out that New Moon tops sales figures for The Dark Knight and movies from both the Harry Potter and Star Wars franchises.
But on the other hand, I struggle with the fact that so much coverage depicts Twilight fans as swarming, screaming, unruly mobs of girls that are othered in some way.  Matt Lauer warned Meredith to "keep the smelling salts on hand for this pandemonium" as Robert Pattinson made an appearance on this morning's Today Show. Variety's coverage of the Hollywood premiere ends with Kevin Smith claiming his daughter's love for the franchise is totally foreign:  "I was watching it with my 10-year-old daughter, and it made no sense to me whatsoever. It was as inscrutable as an Israeli film. I just don't understand the politics of the region."
It's an image that persists over the last 50 years, since the days of Beatlemania – screaming girls possessed, crazy, and constructed as a complete misfit engaging in behavior no one understands. From New Kids on the Block concerts, Hannah Montana/Miley Cyrus events, Jonas Brothers appearances, and even new-comer Justin Bieber's recent performances, the young female fan is continually constructed as a psychotic, mysterious other. In decades of increasing awareness of the complexities of girlhood, have we really come very far from the "threat" of Beatlemania?
To be sure, some coverage has increasingly given a nod to Twilight fans including more than just teen girls, but also middle-aged women. Many of my friends are fans of the franchise looking forward to New Moon. But even their Facebook statuses or tweets reveal qualifications like "is that wierd?" or "hanging my head in shame" along with their announcements to attend the premiere. While some of my feminist friends pin their embarrassment on the franchise's arguably anti-feminist characteristics, I can't help but think how some of my other friends' shame in liking or seeing New Moon emphasizes just how much young female fandom is devalued in American culture. It's a devaluation that just continues through these images and coverage of screaming, 'swarming'  Twilight fans.